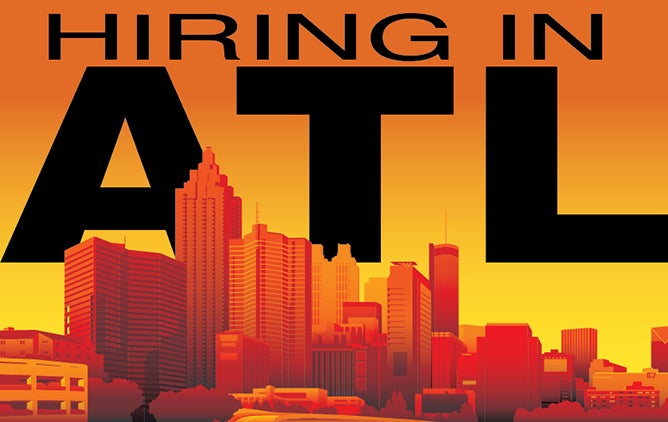 When you think of cybersecurity jobs, Atlanta doesn't come to mind, does it? But it should. Atlanta is one of the United States's fastest-growing cities. The metro region's population grew by more than 75,000 people between 2017 and 2018, the U.S. Census Bureau reports, and it's been growing at a clip of 1 to 2 percent per year for the past several years.
The city is home to one of the strongest job markets in the country. Several Fortune 500 and 1000 companies—such as Coca-Cola, Home Depot, and UPS—have headquarters in Atlanta. It's been attracting new companies, too: logistics software company Dematic announced in April 2019 that it would move its global headquarters from Grand Rapids, Michigan, to Atlanta, and Germany's Elokon opened its U.S. subsidiary in Atlanta in April 2019.
What do all of those companies have in common? They all have data they need to protect and cybersecurity jobs to fill. In fact, a quick rummage through employment search engine results will uncover a variety of cybersecurity jobs in Atlanta.
In fact, a recent joint study from WGU and LinkedIn lists Atlanta as one of the burgeoning capitals in the U.S. for these high-paying careers, which leads to the next natural question.
What Is cybersecurity?
Cybersecurity is the practice of protecting your IT systems, networks, hardware, and software from digital attacks. These attacks often involve the theft of critical or sensitive information. For example, Healthcare Dive reports that businesses in the healthcare industry were breached 503 times in 2018, affecting nearly 15.1 million patient records.
Securing those records—and other often-targeted records, like financial data—isn't easy. As more and more sensitive information is entrusted to technology, cybersecurity professionals have more to lock down. As technology evolves, hackers get more creative. Consider last year's Google breach, which exploited a vulnerable application programming interface; the 2013 Target information breach, wherein hackers accessed customers' credit card information via a third-party vendor; or the 2016 breach of Fitbit, when hackers gained access to users' personal data using leaked login information.
Cybersecurity jobs in Atlanta.
Each of these situations underscores the critical need for cybersecurity professionals across industries to identify vulnerabilities in infrastructures and protect important personal data.
There was a time when cybersecurity jobs were considered to be exclusively part of the tech industry. But thanks to the technology that we all use in our everyday lives, every company is now a technology company.
Every company has data it needs to secure, and this is why Atlanta businesses are hiring IT professionals and cybersecurity experts en masse. According to a report by Robert Half, CIOs in Atlanta listed cybersecurity as their top job need in 2018. Specifically, the CIOs said they need to maintain security systems, protect company information and inspire customer confidence.
Types of cybersecurity jobs.
Because innovative hackers can attack businesses in seemingly endless ways, there are a variety of roles available in cybersecurity. Some are general, while others are highly specialized.
Security analysts are typically responsible for translating data on vulnerabilities in a company's IT infrastructure into communications key stakeholders in the organization can understand. They also test systems for compliance with security protocols.
Security engineers build, test, and configure systems in response to risks and monitor a company's IT network to detect and respond to digital attacks.
Security administrators manage an organization's security systems.
Penetration testers hack an organization's infrastructure on its own behalf to determine the network's weak points.
Chief information security officers are C-level administrators responsible for overseeing a company's information security system.
There are also jobs devoted to developing security software and jobs solely dedicated to decrypting malicious software.
Protecting the peach state.
If you're interested in the cybersecurity jobs Atlanta has to offer, you'll need a degree. A bachelor's degree in cybersecurity and information assurance is a good start. You'll first learn the fundamentals of IT before moving into specialized security courses covering digital forensics and hacker countermeasures. If you want to climb the cybersecurity career ladder, you might want to consider a masters in cybersecurity, which covers systems design and cybersecurity management.
The booming Atlanta metro area has much to offer to IT professionals. If you're interested in fighting digital crime and you love warm southern weather, Atlanta might be the perfect place to find your next—or first—cybersecurity job.