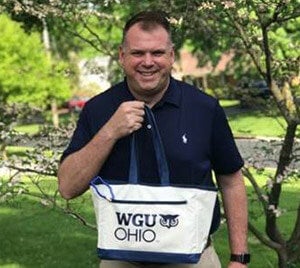 Tim Richmond  of Cincinnati credits WGU Ohio with helping him achieve his dream of becoming a teacher.
"I don't think I could have done it in a traditional brick and mortar school setting," said the 43-year-old father of three. 

Richmond had taken some college classes after graduating from high school then worked with his father, who owned a consulting firm that helped design and build machines for the manufacturing industry.

But when his father retired in 2016, Richmond said he realized he did not have enough passion for the business to continue on.
"It had always been in my mind to find another career and always thought about being a teacher," he said. He enjoyed working with youth as he coached cross country, track and swimming, he said.

He discovered WGU and enrolled in a bachelor's program for special education. He transitioned to WGU Ohio in 2018, when Ohio became the eighth state to partner with the nonprofit, accredited online university.

The advantages of WGU, which currently serves more than 4,000 Ohio residents, include allowing students to earn their degrees by demonstrating what they know and can do (competencies) instead of how long they sit in a classroom. They move through courses at their own speed and pay a flat-rate tuition for each six-month session.

"My wife and I have three young children, who were 8, 7 and 5 when I started and I appreciated the flexibility to complete work at my own pace and do it at an accelerated pace to get through," he said.

He said he found time to take classes at every opportunity, including weekends and while at his children's sports practices. He said his wife was very supportive and his children were excited about him going to school. He did his student teaching at one of their schools. 

He graduated in 2019 and now works as an intervention specialist for juniors and seniors at a career and technical school. He is also the head cross country coach at Milford High School.

Because of COVID-19, Richmond's students are attending remotely, initially for three days a week and now full time. He said his online experience with WGU has helped him adjust to teaching remotely and he will be able to help his children if they go to a remote schedule.

He said he is a "true believer" in WGU and has recommended it to others, including his co-workers who are interested in obtaining a master's degree. 

Initially he was "kind of leery" how potential employers would view an online degree. But he realized WGU is respected and he was well-prepared for his job.

"I love teaching," he said. 'It is what I was meant to do."