Crystal Stewart from Cleveland says WGU's online, competency-based degree programs helped her realize not one dream, but two:  advancing in her nursing career and then starting her own businesses.  And this all while balancing the pressures of work and family responsibilities.  Crystal, now working as a traveling nurse, started her career as a clinical aide and nursing assistant while she studied for a nursing degree on a nearby campus.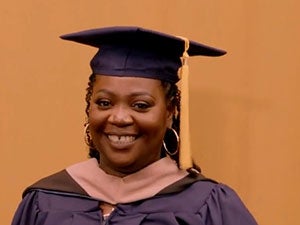 With that degree she worked at several healthcare facilities in northeast Ohio, then progressed from supervisor to unit manager, assistant director and eventually to director of nursing.  But even with those achievements she knew she could achieve more.  So, Crystal enrolled in WGU Ohio's graduate-degree nursing program in 2016 and received her Master of Science degree in 2018.
"I chose education as the focus for that degree," Crystal said. "Because as a manager I found that other nurses did not receive great educational or clinical experiences.  I wanted to bridge that gap."  But in addition to a healthcare career, she dreamed of pursuing her creative side and creating her own business, so she opened another chapter in her life by starting her own publishing firm.   And to better understand how to manage that business, she turned again to WGU, enrolling in its MBA program.  But that was in 2019, just as the pandemic hit.

"Covid-19 hit the world hard," she says.  "I was out of work and my daughter's schooling was remote.  I saw that as my chance to join the fight against Covid-19.  I took my first assignment as an infection preventionist in Billings, Montana.  Subsequently I've run vaccine clinics, participated in Covid-19 testing and surveillance, and worked the front line in a rehabilitation center.  This was all doable at the time because learning was all online."

Crystal credits her success to the opportunities WGU Ohio offered her for career advancement:  the ability to take courses at an accredited online university – no matter where she lived and at times when she could manage along with family and job obligations.  She also appreciates the flexibility of WGU's coursework and the support of her mentor and faculty as she worked toward her MBA, which she received in 2022.  Crystal's success story doesn't end there.  Her firm, Pearl Publishing, has brought two poetry books to market, she's started Pretty Mi, a home décor company, and she hopes soon to start Crystallize, a wall art company.