Laurie Avey was slightly anxious last summer when she contacted the admissions office at WGU Ohio about enrolling in their master's degree in nursing informatics program. The longtime nurse was familiar with online education, having earned her bachelor's degree in nursing about five years earlier, but wondered if she could return to school to earn a new degree at the age of 60.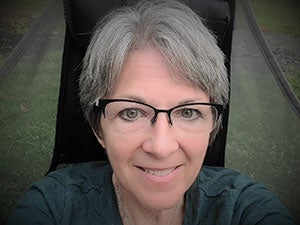 She soon realized she had no reason to be concerned, she said. For everyone she has dealt with, from the first person who answered her call and helped her navigate the application and admissions process, has been more than supportive.
"Every person I have spoken to are not just friendly but gave so much reassurance," she said of WGU Ohio staffers, mentors and instructors. "They never made you feel like you are too old to learn."

Avey, who lives near Youngstown, has been a nurse for almost 40 years. She worked in Boston, Columbus and Pittsburgh before her family settled in Ohio.

She works in the mobile ICU department and helps out in the medical intensive care unit at Bon Secours Mercy Health in Youngstown. 

While Avey had received a nursing diploma from a hospital-based nursing program after graduating from high school she always wanted to obtain a bachelor's degree. 

Her hospital offered tuition reimbursement and the online college program she chose was promoted through her hospital. 

"It did not make a great deal of difference in terms of my job but was more of a self-satisfaction for me," she said of receiving the degree.

But recent changes in her department, where she had worked for 12 years, led her to re-evaluate how she wanted to conclude her nursing career.

"I needed to have some other options and did not want to go back to being a bedside nurse," she said. "I felt I still had a lot more to offer in the field of nursing."

She decided to focus on nursing informatics, a field of nursing that incorporates computer and information sciences to improve patient outcomes through communication and data management and analysis.

"It is a way to stay involved and use my knowledge," she said.

She discovered the WGU program while researching online programs.

"The flexibility kind of spoke to me because it would allow me to work through this program at my pace," she said.

She began classes last September and expects to get her degree in August, 2023. 

Avey said her experience with WGU is markedly different from when she studied for her bachelor's degree.

"For whatever reason, this seems less stressful," she said. "People are more accessible and I get a lot more encouragement and enthusiasm. When I have finished a course or passed one of the assessments I immediately get an email from the course instructor or mentor saying 'We are so proud of you.' It really makes me feel good because I feel like they are in my corner rooting for me. Not because it is their job - they really want to see me succeed."

She said her husband and grown children are very supportive.

"It is good for them to see that you don't reach a point where you necessarily stop learning and stop growing," she said.

And she looks forward to continuing her program at WGU Ohio.

"This has been a very positive experience," she said. "It is above what I expected it to be."