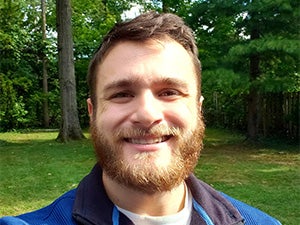 If he could start college all over again, Spencer Patalano would have enrolled at WGU Ohio from the beginning instead of hopscotching from college to college during his five years as an intelligence analyst in the U.S. Marine Corp. 
"I was taking classes in person and then the military would move me to another post and I'd have to quit and I was hardly getting anywhere," says Patalano, 26. But since he enrolled at WGU in January 2020 to study cloud computing, graduation with a bachelor of science degree is in sight by the end of the year. 
"I'm going to actually graduate," marvels Patalano, who has been out of the military since 2017 and works as a data center technician for Amazon in Columbus.  
The self-directed nature of WGU classes is perfect for Patalano, who says he has plenty of drive and self-discipline.  What eventually sold him on WGU were the certifications he could obtain as part of his classes. 
"The cost of them is rolled into tuition, and I've gotten six or seven so far," he says. Other schools he looked at offered a few certifications as part of classes, but some didn't and obtaining each one would have cost an additional $200 to $300. 
"At WGU, the level of the certifications and the quality is good," Patalano says. He expects the certifications he's obtaining will help him advance at Amazon or anywhere else he might work. 
And he loves the fact that WGU is all online. 
"This is what I wanted; I didn't want to go in person," he says.