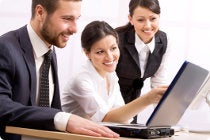 By Christine Kowalski
WGU's Health Information Management Program Coordinator
March 25–31, 2012, is the 23rd annual Health Information Professionals (HIP) Week. Throughout the week, WGU Connection will post about health information management and WGU's online B.S. in Health Information Management students and graduates.
What is health information management or "health informatics," as it is sometimes called? Many of our students receive that question from friends and coworkers when told about the online bachelor's degree in health information management program at Western Governors University. The answer to the question is pretty broad, because health information management, also sometimes called "health IT," blends a variety of professional disciplines:
Business (healthcare is big business)
Management (of people and projects)
Information technology and systems (as used to support healthcare environments)
Health information management (formerly thought of as "medical records")
Where will you find health informatics used? Anywhere you find health information being created, communicated, shared, stored, and used. Health data is created every time a medical provider takes a patient history, and that data becomes information about the patient. That health information, generated by patient data, is used by:
Medical staff and all involved in the patient's care to support decision making, and build best practices in evidence-based medicine;
Staff working with insurance companies for reimbursement purposes;
Chief executive officers and other administrators to make organizational decisions about financial resources;
Clinical researchers in pharmaceutical companies;
Public health administrators for tracking population health, locally and regionally;
Federal organizations that make decisions on environmental issues and biomedicine based on information gathered nationally.
Health information goes from the micro level to the macro level, and health informatics professionals participate at all levels. Some places where health informatics professionals work:
Hospitals and outpatient/multispecialty clinics
Physician group practices
Long-term care facilities
Mental and behavioral health facilities
Public health departments
Insurance companies and managed care organizations
Software vendors
Government agencies
Biomedical technology companies
Pharmaceutical companies
Attorneys' offices
Consulting services
Academic environments
Job titles for health information management professionals include:
Clinical Data Specialist
Patient Information Coordinator
Director of Health Informatics/ Information Management
Data Integrity Specialist
Research/Decision Support Analyst
Clinical Research Associate
Data Quality Analyst
Chief Knowledge Officer
Workflow Analyst
Terminology Asset Manager
Privacy/Security Officer
Data Resource Manager
Project Manager
Health information management employment prospects are good: Jobs are expected to grow by 47% in the next five years.

Our course of study reflects industry needs and a forward-thinking approach, anticipating changes in the healthcare environment. Students who enter our program should be adaptable, curious, team players who are comfortable working with change. Health informatics is all about people using information systems to communicate health data/information to build the medical knowledge base, improve the quality of patient care, lower healthcare costs, and grow a nationwide health information system.