March 25–31, 2012, is the 23rd annual Health Information Professionals (HIP) Week. Throughout the week, WGU Connection will post about health informatics and WGU's online B.S. in Health Informatics students and graduates.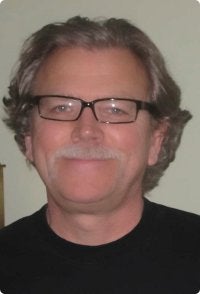 In 2005, Larry Barclay, of Newport News, Virginia, retired after 25 years as a fire and medical responder – but he wasn't done working.
"I enjoyed my work tremendously," the 57-year-old father said. "I just felt that it was getting too stressful and too demanding, so I was having some early indicators that it wasn't going to be healthy for me to stay."
Armed with an associate's degree from many years earlier and an interest in both healthcare and information technology, Larry set out to find a new career.
"I decided to retire and didn't quite know what I was going to do," he said. He was caring for an ill father and had kids in high school who still depended on him. He had started and stopped a few bachelor's degrees at conventional colleges over the years, but none had worked for him.
"I basically became the house husband, doing volunteer service and working around the house," he said. Then, he found online university, WGU.

"It seemed real student-focused rather than focused on making a profit," Larry said. "It was really flexible in terms of my scheduling. I could still care for my family, continue to do volunteer work, and still manage to get studies done—sometimes very late at night, sometimes very early in the morning."
Specifically, he discovered WGU's online health information management bachelor's degree program—a program that, he was delighted to learn, bridged his love of healthcare and IT.
He had always been interested in healthcare and had looked into becoming a nurse at one time. But as he got older, he realized that the demands of nursing, including those infamous 12-hour shifts, may not be best-suited to him. He had some IT certifications, but other technology fields didn't quite do it for him either.
Health informatics, he said, "just seemed perfectly suited to me."
Now, he's on track to graduate with his bachelor's degree in July. He credits WGU's flexibility, its emphasis on students setting their own independent learning paths, and the constant access to a mentor-led support system with his success.
"I immediately felt connected to my mentors, really felt that style was good for me," he said. "I was a very independent learner already and didn't really like a lot of hand-holding. They could help me navigate any problems I was experiencing without really getting too much into the academics, which, for the most part, I didn't need too much help on." Of course, when he did need academic or subject-matter help, course mentors were there for him too.
He's looking to spend many more years continuing to work—either in a career or a volunteer capacity, or most likely some of both. What's most important is that he's not ready to leave the workforce. He loves being with people, loves using his brain, and loves putting his passions into action. Health IT is an exciting, new field, and Larry sees in it a career that will allow him to take part in major changes that will help healthcare professionals focus on promoting the well-being of healthy people, not just waiting to care for the already-sick.
Just what his work will be, he's not sure. He'd like to start out working in a hospital, with their complex information systems and lots and lots of opportunities to learn. But beyond that, he'd be happy in disaster response, overseas work, or any of the many other diverse areas a health informatics degree can lead.
"It's an odd time to start a new career and get a job in a completely new field," he said. But he's making all kinds of connections with the people he'll need to know to get his foot in the door, thanks in large part to his WGU education. He'll be doing his PPE (professional practice experience) in a local hospital. He currently does volunteer work for the Virginia Health Information Management Association. He'll be attending a professional conference next month. And he does volunteer emergency response work—this time, not as a responder as in the past but working with information and workflow in disaster response.
"I can't tell you how much I love health informatics. It just seems perfect for me at this point in my life. I plan on remaining very active and working as long as I want to—as long as I can. I definitely feel like I will be successful.