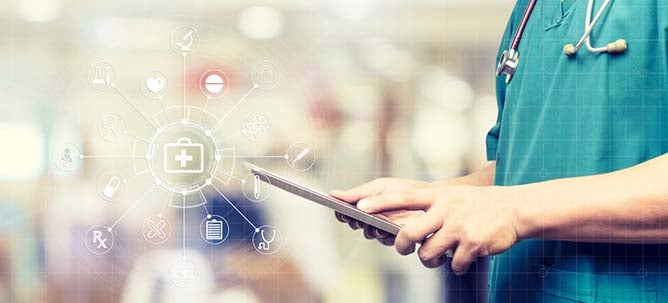 Demand for jobs in the healthcare market is high, and there are many available nursing positions in bedside care, management, and research. But what if you don't want to get up close and personal with patients yet still want to make a positive impact? Health information management jobs could be your answer.
Is health information management right for me?
Health information management (HIM) professionals—including clinical documentation specialists, risk managers, quality improvement analysts, and more—gather and analyze patient data to improve patient care, manage revenue cycle practices, protect patient data and work with key stakeholders to maintain the integrity of the health record. Roles in the health information management field, which combines information technology and healthcare knowledge, cover several areas within Health Information Management. A few areas are below:
Coding and revenue cycle management. As a health information management (HIM) professional, you may manage revenue cycle practices. As you advance in this area, you'll manage teams, analyze trends, and find ways to maximize revenue. You could also audit coding systems to make sure that they comply with local and federal regulations.
Data analytics. HIM professionals that work in data analytics are responsible for initiatives that improve patient care in the healthcare system. With health care moving toward outcome and value based payment initiatives, HIM professionals analyze data to discover practices to lower costs and improve patient outcomes. By interpreting, testing, and validating data through reporting and auditing, analysts turn raw patient data into meaningful information.
Clinical documentation improvement. HIM professionals work in Clinical Documentation Improvement (CDI) to help enhance medical data collection and to maximize reimbursement and improve healthcare quality. CDI specialists work with clinical staff to improve documentation for reimbursement and continuity of care. 

Healthcare compliance. HIM professionals in healthcare compliance work to help hospitals and physicians comply with relevant federal health care laws and regulations. They specialize in areas such as patient safety, patient privacy, and billing practices.
Aspiring HIM professionals need to have high attention to detail and solid analytical skills. Some positions require interfacing with patients or customers, which would require excellent customer service and communication skills.
How do I get there?
The health information management field is broad and along with HIM Managers, includes System/Application Analysts, EHR Specialists, Compliance Officers, and Revenue Cycle Managers. The field of HIM is diverse and the opportunities are growing at a rapid pace. There are countless opportunities to use what you learn in HIM to excel in healthcare and beyond.
People who have a background in administrative healthcare, information technology, business administration, or an allied health field are well positioned for a role in health information management. Associate's degrees in any of these fields are a plus and will help you as you earn your bachelor's in health information management. Individuals with an associate degree from a CAHIIM accredited program are eligible for the block transfer program which offers up to 69 transfer units toward the completion of your bachelor's degree in HIM. 
A bachelor's degree program will take you through the basics of medical terminology, pathophysiology, and pharmacology, giving you a clinical base for the data you'll work with. You'll learn about IT systems, systems management, statistics and research. You will also learn about core HIM functions, such as healthcare compliance, reimbursement, and quality and performance management so that you can confidently take on any role in any area of health information management.

During your degree program, you'll demonstrate your knowledge with Professional Practice Experiences in the field and a health information management capstone project. This will prepare you for the projects that await you as a health information management professional.
The program is accredited by the Commission on Accreditation for Health Informatics and Information Management (CAHIIM) and graduates are eligible to sit for the Registered Health Information Administrator (RHIA®) credential.You'll also earn your CompTIA Project+ certification while you earn your degree. These two certifications will help you launch your health information management career. Your education, along with the on-the-job experience you obtain during the program, will prepare you to step into many roles within the field.
Where can it take me?
Because healthcare facilities use digital processes to manage patient records and improve care, the field of health information management is growing. According to the Bureau of Labor Statistics, the medical records and health information sector is expected to grow by 11 percent by 2028.
There are many pathways toward a fulfilling health information management career, and once you gain invaluable knowledge and credentials, there are many places you can go. Best of all, you can be confident that you're using your knowledge to improve healthcare delivery for patients and their families.