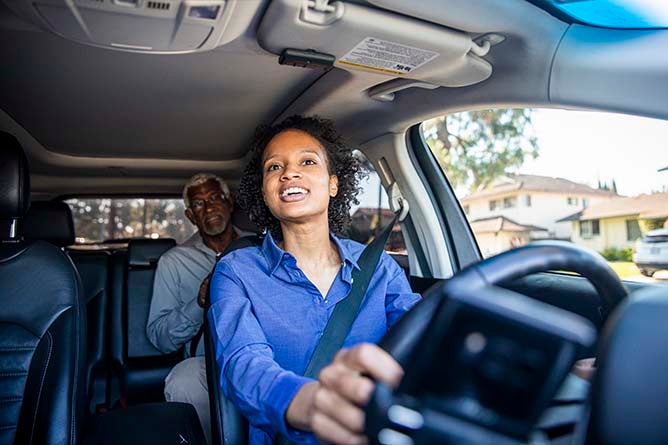 Financial aid and student loans aren't the only methods of paying for college. There are many side hustles that can help students pay for their education while still keeping their focus on their academic workload.
From the creative to the conventional, here are a few ways to make money while completing your degree.
1. Drive for a ride-share company.
Do you enjoy driving your car? Driving for a ride-share company, such as Uber or Lyft, is a popular gig among college students. You can make your own schedule, which can be a huge boon to people with papers to write and classes to attend.
How much you make per hour depends, though. According to The Street, the average ride-share driver earns about $9 an hour. However, in a dense metropolitan area like New York City, you might make almost $30 on a single trip. Tips, too, help bolster your income. And if you're a master multitasker, you could listen to audio lectures or assigned podcasts from class during your driving downtime.
2. Work in online transcription.
You can earn a decent wage by tapping into the online transcription world. TranscribeMe, one of the most well-known online transcription companies, says that its freelancers can earn between $15 and $22 per hour. Rev, another freelance transcription site, says that its contributors bring in an average of $245 per month.
You don't need any transcription experience at either TranscribeMe or Rev, but you'll need to pass an English exam and complete site-specific training. In addition to the cash, transcription is a great way to sharpen your typing skills, develop a stronger understanding of grammar and punctuation, and hone your attention to detail.
3. Be a remote translator.
Being bilingual is a huge plus in the gig economy, as it means that you could provide translation services for an in-demand language. You could work for a bilingual call center, as a translator, or as an online tutor. The Balance Careers highlights Aberdeen, Lionbridge, and Pacific Interpreters among its prominent employers in translation and bilingual services.
4. Mine the microtask marketplace.
The microtask marketplace is another place to venture if you want to make a little bit of money for a few minutes of relatively mundane work. The most well-known sites in this space include Amazon Mechanical Turk, Clickworker, and Appen. Companies post short tasks to microtask sites and pay remote workers to complete them, but they usually don't pay more than a few bucks at a time.
5. Be a user-tester.
Sites such as User Tester and TryMYUI pay users to visit a website or use a mobile app, test its functionality, and provide feedback. These microtasks can pay up to $60 per test, but they typically pull about $10 for a 10- to 15-minute test.
6. Be a caregiver.
Back in the brick-and-mortar world, there are a lot of ways you can get paid to care for young children, pets, or the elderly. The average hourly babysitting rate is $16.75, according to UrbanSitter, though pay grades vary wildly by locale and the number of children cared for. Dog walkers make just shy of $16 an hour, according to Indeed, but they typically make more in cities than in rural areas.
Care.com is a good place to start if you're interested in learning about work opportunities, but don't limit yourself. Ask around your local community, and you'll likely find these kinds of services to be in high demand—and you'll avoid paying the finder's fees that come with using a third-party vendor.
7. Leverage your creative skills.
Just because you're going to college to acquire new knowledge and skills doesn't mean you're starting from scratch. If you're creatively inclined, there might be opportunities to earn good money with small businesses or individuals who need a writer, an editor, a graphic designer, or a social media manager. Websites such as Fiverr, Upwork, and Appen are flush with one-off jobs, but you might also want to look into any work-study programs offered by your college or university.
It's not likely that any of these jobs will pay down all of your tuition. But they'll help you defray some of the cost and cover your day-to-day expenses. These aren't jobs that should get in the way of your academic success—after all, you're earning a degree so you don't have to rely on odd jobs. But checking out a few of these options will put a little scratch in your pocket.