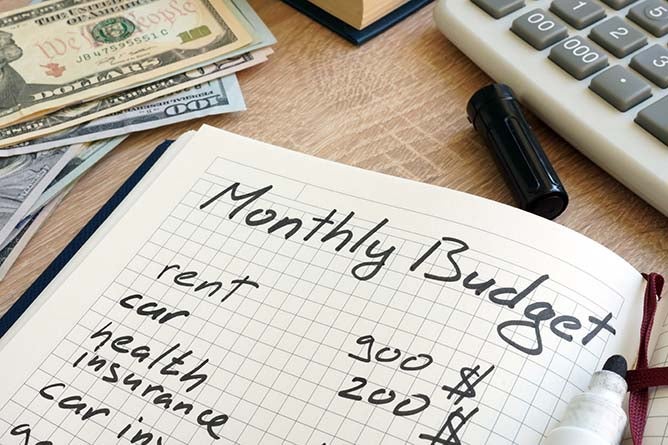 For millions of Americans, the coronavirus pandemic isn't just a health crisis—it's also a financial crisis.
Stay-at-home orders have shuttered offices nationwide. Some workers are now working from home, but many have lost their jobs or seen their hours drastically reduced, leaving millions worried about the impact the pandemic will have on their finances and whether they can cover their bills.
Fortunately, there are many financial resources available—from the federal and state governments, from nonprofit organizations, and, in some cases, from your friends and neighbors.
Here's some personal finance advice—and a few links to programs and services—that can hopefully help you stay afloat while you ride out this crisis.
Making a financial plan.
Step one in taking control of your finances is taking control of your emotions. Be honest about what you have and what you need to survive. If you don't have a budget, make one now. Spend only what you can on the things you need.
Then consider the following:
What are your most pressing expenses? How many people rely on you for those?
How much credit can you access in the short term?
Do you have an emergency savings account?
Is there a friend or family member who can lend you money?
Answering these questions will help you piece together a realistic view of where you are, where you need to be, and how you can get there.
Contacting creditors and service providers.
If you're going to have trouble paying your bills or loans on time—or at all—the Consumer Financial Protection Bureau recommends reaching out to your lenders or creditors as early as possible. Credit card companies and lenders might be able to help you by waiving fees and delaying or adjusting payments. If you can't pay your mortgage, the Consumer Financial Protection Bureau says, there might be federal assistance available to you, but you should contact your lender right away to discuss your options.
Many service providers are extending payment due dates or letting customers affected by the outbreak set up payment plans, USA Today reports. AT&T and Verizon are suspending account terminations, and T-Mobile is providing unlimited data to customers with data plans for 60 days. Utility companies such as Duke Energy and Consolidated Edison are suspending shutoffs for people who are having trouble making payments. Some automakers are delaying payments for new-car buyers and offering assistance programs for customers who are having trouble making payments on vehicles.
Contact your lenders and your utility, internet, cable, and cell phone providers to find out what specific options are available to you.
Connecting to your community.
You might be able to find support and assistance in your community.
The virtual community site Nextdoor offers a Neighborhood Help Map where volunteers can post messages offering to pick up groceries, babysit, or run errands for those in need.
Facebook launched the COVID-19 Community Help hub to request help from local volunteers to distribute food, collect hospital supplies, and offer other assistance.
Mutual aid networks are popping up around the country to help serve their communities' financial, social, and emotional needs. Through these community-controlled assistance organizations, area volunteers help members of their communities find trusted health information and support services. If you need help—or can offer it—find your nearest mutual aid network on the Mutual Aid Hub's national map.
Finding federal assistance.
On March 27, Congress passed the Coronavirus Aid, Relief, and Economic Security (CARES) Act, a $2 trillion economic relief package that includes stimulus payments for individuals and expanded protections for workers affected by COVID-19. And several other federal programs are expanding in response to the outbreak.
What federal help is available to you?
Through the CARES Act, most Americans who have a Social Security number will receive a one-time stimulus payment, though the amount is dependent on income:
Single adults making less than $75,000 will receive $1,200.
Married couples making less than $150,000 will receive $2,400.
Heads of household making less than $112,500 will receive $1,200.
In addition, the CARES Act allots $500 per child under age 17; a married couple claiming two children on their tax return, for example, would receive $3,400.
Payments shrink by $50 for every $1,000 earned over the income thresholds. Single adults making $99,000 or more, married couples making $198,000 or more, and heads of household making $136,500 or more won't receive any stimulus money. College students will only receive checks if they aren't claimed as a dependent on someone else's tax return.
You can calculate how much stimulus money you can expect with the Tax Foundation's calculator.
The CARES Act also expands unemployment benefits to self-employed, contract, and part-time workers. It also supplements state unemployment benefits with an extra $600 per week. The formula to determine benefits comes from the Disaster Unemployment Assistance program.
You're eligible for unemployment during the COVID-19 outbreak if you:
No longer have a job or cannot work because of the outbreak
Cannot reach your place of work or cannot work there because it is damaged
Have become the head of your household because the former head of your household has died
You're not eligible if:
You can work from home
You are receiving paid sick leave or paid family leave
You're new to the workforce
Depending on the state you live in, you might be able to claim benefits if your hours have been sharply cut, according to the New York Times. Your state's unemployment agency can provide updates on how COVID-19 is affecting unemployment benefits.
The CARES Act also provides relief for people with federal student loans.
If you have an outstanding federal student loan, it's been placed in administrative forbearance—meaning you can temporarily stop making your monthly loan payment—until September 30, according to the US Department of Education. Loans won't accrue any interest until September 30, either. Check with your lender in the next few weeks to make sure your account shows no payment due during this time.
The CARES Act only applies to student loans owned by the US Department of Education; if your student loan is owned by a bank, a commercial lender, or the college you're attending, it doesn't qualify for the interest waiver and payment suspension.
If you have a private student loan, contact your lender to see what assistance it can offer. Sallie Mae, for instance, is letting borrowers postpone payments and keep their accounts in good standing. There's also a provision of the CARES Act that allows employers to provide up to $5,250 in tax-exempt student loan assistance; check with your employer to see if it can provide assistance.
Small business owners can apply for a low-interest loan from the Small Business Administration to gain some working capital to cover substantial economic injury as a result of the coronavirus outbreak. You can apply for loans and find more information on assistance programs on the Small Business Administration website.
State and local resources.
Each state offers resources and programs for people affected by COVID-19. The following websites can connect you to personal finance advice as well as state and local programs covering a variety of needs.
These are unprecedented times, but there are ways to stay on your feet, even if your income has been affected. If you need a little extra assistance, now is the time to reach out and ask for help.