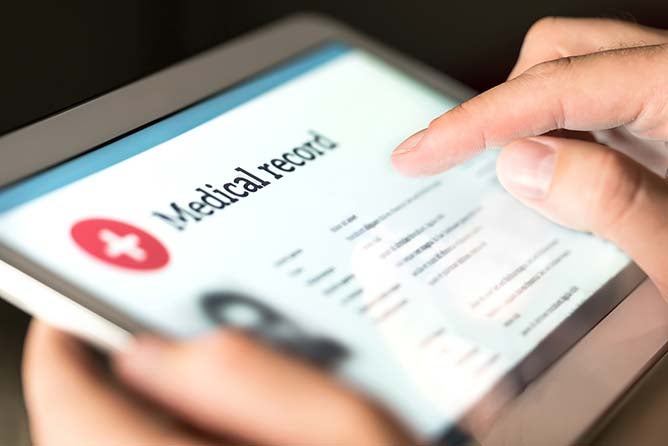 As our healthcare system becomes increasingly reliant on new technology, data points are created for every test and scan, whether recording someone's temperature or taking an X-ray. Compiling that data in a meaningful way that enhances health outcomes and protects individual privacy is essential to a medical facility's operations. That's where health information management jobs play a critical role.
Health information management in today's medical system.
Today's healthcare system is driven by information, and it's increasingly dependent on people who can analyze and interpret this information. Facilities and physicians need reliable, up-to-date information to provide patients the best care possible. In today's healthcare system, facilities are required to access that information through electronic medical records—digital versions of charts, financial information, insurance information, and other data essential to patient care and facility operations.
Further Reading: Management jobs in the healthcare industry.
Health information management professionals are responsible for maintaining the quality, integrity, and protection of a patient's health information and electronic medical records, according to the American Health Information Management Association (AHIMA). They ensure that electronic patient data is stored properly and securely and that all relevant parties can easily access information when needed.
Earning a degree in health information management.
A health information management program will teach you the essential skills you need to thrive in the field. Western Governors University's program offers courses that cover topics such as healthcare systems and how they operate, laws and government regulations, and healthcare data analysis and management.
These courses combine information technology with healthcare to give you the industry expertise you'll need to use data management programs as a health information management professional. You'll learn about data analytics and information technology, but you'll also cover medical topics such as medical terminology, basic anatomy, pathophysiology, and pharmacology to give you the healthcare foundation you need to understand and manage the data you'll be handling. Courses covering topics such as healthcare reimbursement and quality performance management round out your program, and they'll help you identify ways to measure and improve the quality of patient care and operations.
Because you'll be earning your bachelor's degree, you'll also earn credits in general education such as critical thinking, basic algebra, English composition, and statistics. If you've already taken some of these courses, they can be transferred in. WGU's competency-based approach to learning lets you complete classes on your own schedule and earn credits as you master the material. If you're eager to dive into the field of health information management, this approach could help you to get there quickly.
Choosing an accredited university.
WGU's bachelor's program in health information management not only trains you in the areas you need for your career; it also comes with résumé-boosting credentials. The program is accredited by the Commission on Accreditation for Health Informatics and Information Management Education, which enables you to sit for the Registered Health Information Administrators (RHIA) exam. Earning an RHIA credential, the AHIMA notes, signals to employers that you are adept at managing patient information systems and operational units and that you understand the healthcare system.
You'll also earn a CompTIA certification, which conveys your IT knowledge. Combined, these credentials show healthcare facilities that you're knowledgeable in medical and information technologies and invested in the field.
Health information management jobs.
The AHIMA describes health information management as incorporating "the disciplines of medicine, management, finance, information technology, and law into one curriculum. Because of this unique mixture, HIM graduates can choose from a variety of work settings across an array of healthcare environments."
According to the AHIMA, its members work in more than 40 job categories and hold more than 200 unique job titles, broken down into four main categories: coding and revenue cycle, information governance, data analytics, and informatics. The health information management ecosystem includes:
Health information specialists, who compile and organize patient data for a healthcare facility;

Compliance officers, who ensure that data processing procedures follow HIPAA, HITRUST, and legal regulations;

Healthcare data analysts, who analyze data to help facilities improve patient outcomes and operations; and

Health information managers, who oversee teams, manage data analysis projects, and ensure data is handled properly
Because health information management professionals don't provide bedside care in a healthcare facility, they can work at insurance companies, private companies, public health facilities, and outpatient clinics in addition to hospitals and physician's offices.
The changing healthcare landscape.
Technology is changing the way the healthcare system functions. Health information management professionals are at the forefront of that change; they ensure that patient information remains safe and facility operations run effectively. No matter which health information management jobs you choose to pursue, you can be confident that a degree from WGU will prepare you to make a difference in patients' lives.