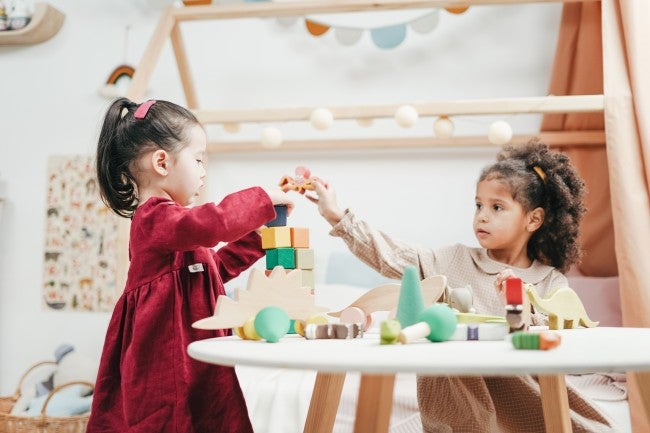 Would you like to make a real difference in shaping the lives of children? Do you enjoy being a role model and teaching kids about the world around us? Then you should consider becoming a preschool teacher.
Preschool teachers enjoy great flexibility in where they work—from public schools to daycare centers to churches and beyond. They also have days that are unique and centered on learning and fun.  But most importantly these teachers are able to impact their students' personal, social, and academic well-being at such a crucial stage in their brain development. Early childhood education is crucial for these students, and teachers in a pre-k setting are able to help their students thrive.
As a teacher of pre-K students, you truly impact your students' future, which is why it's such a rewarding profession. Read this guide for a complete preschool teacher job description, including core responsibilities, how much these teachers are paid, and how you can transition into this respected and meaningful career.
What is a preschool teacher?
Preschool teachers use imaginative methods to encourage early childhood education, engage their young audience, and prepare them for the structure of their K–12 education. They employ a seemingly simple curriculum to assess the mental and social development of their students, and they help these children and their parents prepare for the school years ahead. Most preschool teachers work with kids ages three to five, but they can be trained to work with children from infancy up to the age of eight. This early childhood education is critical, which is why the job description of this kind of teacher focuses on helping develop their minds.
Some of the ways preschool teachers differ from K–12 educators are:
They can work earlier or later than traditional K–12 school hours.
They follow a basic learning curriculum, but they don't assign or grade homework.
They use arts and crafts to progress academic skills instead of textbooks.
They use story and play time to teach problem-solving and encourage social development.
Essentially, being a preschool teacher requires more tactical, hands-on learning. And it also necessitates more patience—which is why many pre-K educators teach mindfulness in their classrooms.
What does a preK teacher do?
A good job description for a preschool teacher is that you'll teach critical language, social, and motor skills to children who have yet to enter kindergarten. Early childhood education focuses less on specific knowledge levels, and more on overall skills that children need.
Kids under the age of six learn best from playing, experimenting, and problem-solving. So you'll need to work fun into your daily lessons. Some creative ways preschool teachers do this is through using rhyming games or sing-alongs to teach vocabulary, building blocks to introduce basic math skills, and group projects to develop social IQ.
Your day-to-day duties and responsibilities can include:
Implementing a curriculum covering the many areas of child development, including both educational and behavioral skill sets.
Teaching colors, shapes, letters, and numbers recognition.
Introducing children to the wonders of the world around them through activities that explore varying interests and develop investigative skills.
Working with students one-on-one or within groups, depending on the subject matter and your students' needs.
Using schedules and routines to give students structure, and making sure to incorporate sufficient physical activity and rest.
Monitoring students for any emotional or developmental warning signs and notifying their parents.
Reporting on each child's development, including their interests, routines, aptitudes, and overall progress.
As with all teachers, you'll interact with kids from diverse socioeconomic, religious, and cultural backgrounds. Thus, it is beneficial to teach and incorporate tolerance so your students can learn how to value one another's differences.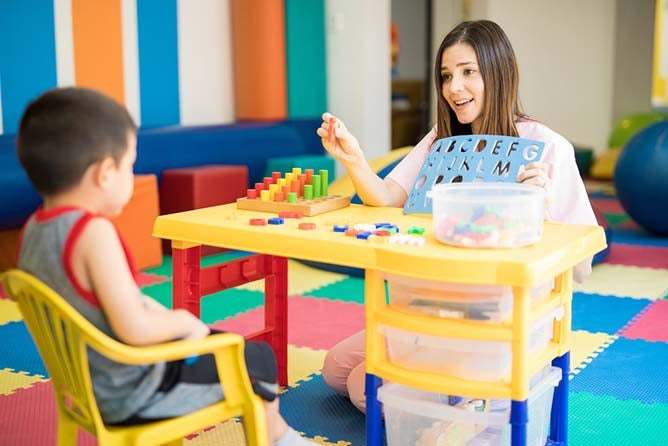 How to become a preschool teacher.
You should obviously have a love for young children, education, and possibly some experience working as a babysitter, nanny, or family childcare provider. Here are more details on the education, work, and skill requirements for becoming a successful pre-K teacher.
Although some facilities require only an associate degree, most preschool teachers today have their bachelor's in early childhood education or a related teaching discipline. Many states also require pre-K teachers to complete a teacher prep program, pass state or national exams, and earn their teaching licensure or certification.
If you're currently working and can't afford to take time off to earn a bachelor's degree, getting your teaching degree online is a great option. Accredited universities like WGU enable you to complete coursework when and where you have the time. WGU's respected teachers college also prepares you for taking teaching exams and getting your licensure.
Other credentials that are helpful to have if you'd like to work in early childhood education include:
Child Development Associate (CDA)—This credential must be renewed every three years and requires experience in the field, a written exam, and an in-practice observation with children.
Certified Childcare Professional (CCP)—This accreditation typically takes one year to complete, but it includes a self-study process where you can work at your own pace and potentially finish it faster.
In some states, you'll need work experience in a childcare setting to get hired as a preschool educator. This can include working as a teacher assistant or within a childcare or daycare environment. Time spent as a professional nanny or au pair can be helpful, too.
In addition to your degree and on-the-job experience, you should have the following soft and hard skills to be an effective pre-K educator:
Calm, friendly, and reliable temperament.
Balance between being a creative and critical thinker.
Excellent communication, instructional, and mediation skills.
Solid knowledge of child development principles and preschool education methods.
Familiarity with classroom safety and sanitation guidelines.
Exceptional patience and stamina.
The ability to be both organized and flexible.
How much does a preschool teacher make?
According to the Bureau of Labor Statistics (BLS), the median annual salary for a preschool teacher is $30,520—with the lowest 10% earning $21,140 and the highest 10% earning $55,050. Your education and where you work greatly influences your pay. For example, working as a pre-K teacher in a private elementary or public school pays, on average, nearly $20,000 more per year than working at a daycare center.
You should also consider that even though preschool teachers are paid all year round, they typically get two to three months of vacation time, just like K–12 educators. These breaks usually include two months off in the summer, two weeks around Christmas, and another week for spring break. Thus, the extra paid time off can often make up for a lower annual wage.
If you'd like to increase your pay, you can move into an elementary teaching position since many early education degrees qualify you to teach preschool through the third grade. Or you can earn a master's degree in teaching to become a lead preschool teacher or move into a management role at your preschool or childcare center. All of these jobs can pay up to $29,000 more per year!
With growing preschool enrollment and the expansion of publicly funded preschool programs, the job outlook for pre-K teachers is good. The BLS reports that employment in this field is expected to grow by 7% through 2028, which is much faster than average. Many preschool educators also report high job satisfaction because the role affords a superb work-life balance and empowers them to make a profound impact on their students' success—both in school and in life.
If you have a passion for teaching and a deep love and patience for young children, becoming a preschool teacher can be an incredibly fulfilling career. Now may be the perfect time to take the next step!