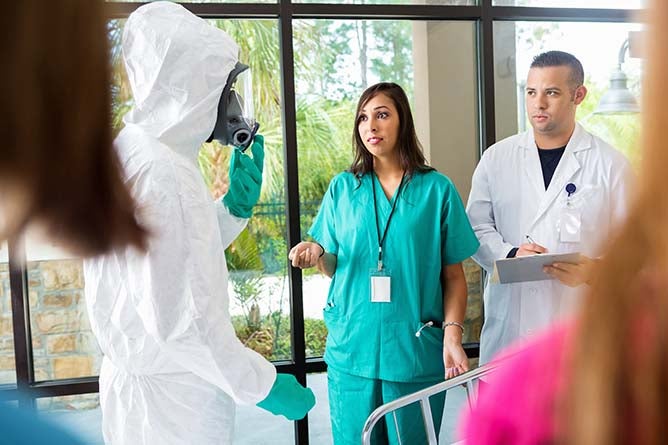 Nurses play a vital role during infectious disease outbreaks. Nurses are on the front line whenever any crisis develops, whether it's a local outbreak or a pandemic. Whenever infectious disease outbreaks occur, the role of nurses is to lead the way in providing safe, effective care—even under stressful circumstances.
The novel coronavirus SARS-CoV-2 has dominated headlines in early 2020, infecting people on six continents with the respiratory illness COVID-19. Nurses, as ever, are on the job, providing direct care for people who develop COVID-19 and helping to prevent the spread of the virus by wearing appropriate personal protective equipment (PPE) and following safety protocols.
If you're a nurse and you're not sure what behaviors you should change or maintain in this critical time, this quick guide can help you stay safe and do your best work.
Follow good nursing practices.
The Online Journal of Issues in Nursing identifies several infection prevention procedures that form the basis of good nursing practice during an outbreak. These include:
Standard precautions and isolation. Wherever you work, focus on identifying the people who are potentially contagious. Familiarize yourself with the Centers for Disease Control (CDC) and Prevention's Guideline for Isolation Precautions. The most recent wholesale revision came in 2007; it's been periodically updated with minor changes and updates to specific disease isolation protocols.
Hand hygiene. Every official communique about COVID-19 emphasizes the importance of thorough handwashing. Because proper handwashing is foundational to good nursing, you're probably in good shape already. Refresh your technique and share good handwashing technique with family, friends, patients, and patient families.
Proper PPE use. Not only do you need the correct equipment; you need to use it effectively every time. The COVID-19 outbreak has exposed challenges in procuring PPE; some shortages are caused by insufficient planning by healthcare facilities, some by public panic-buying, while other areas have experienced a surge in patients, which has depleted supplies.
Quarantine and social distancing. Review the CDC guidelines and your employer's policies and keep potentially contagious patients away from others.
Take training seriously.
Healthcare employers offer periodic refreshers on such core topics as how to safely put on and remove PPE. Use these sessions as needed to keep your knowledge and techniques at the proper level. Unfortunately, the research literature contains many examples of studies that observed incorrect use of PPE by clinicians in all fields and at all experience levels. Think you need a refresher on how to don and remove PPE? The Centers for Disease Control (CDC) has comprehensive PPE training videos available for viewing. 
In early March, National Nurses United (NNU), a union that represents about 150,000 nurses nationwide, surveyed more than 6,500 nurses from 48 states about their working conditions during the COVID-19 outbreak. Among the findings: About two-thirds of respondents had been trained within the previous year how to safely put on and remove PPE, and two-thirds of respondents had been fitted for respirators in the previous year. This is good news, that nurses most at risk are getting the training that is required.  
Manage your resources.
By their nature, infectious disease outbreaks are uncertain situations. Patient flow, working conditions, and scientific knowledge are all subject to change—and they almost certainly will evolve before the outbreak recedes.
Nurses will likely be affected by various shortages: of supplies, of knowledge, even of fellow nurses. Although you might not have much—if any—control over supplies and staffing, escalating concerns to your supervisor or union representative and sharing appropriate knowledge can help you ensure that your facility is as prepared as possible.
The COVID-19 outbreak has highlighted that healthcare facilities don't have enough PPE for staff to use during infectious disease outbreaks. Only 30 percent of respondents in the NNU survey reported that their employers had sufficient PPE stock on hand to protect staff in the event of a dramatic increase in patients with possible coronavirus infections; 38 percent of nurses were unsure whether their employer had an adequate PPE supply stockpile. Communicate with your center's inventory management staff to ensure that your PPE stock meets—or even exceeds—your expected patient influx. Many organizations have started accepting donations of PPE from schools of nursing, places of business, dental offices, and other businesses that might have PPE stockpiled and are willing to donate. If your organization is worried about its supply, consider accepting these donations.
As the virus spreads, hospitals might also run out of room to properly isolate patients who may be infectious. Quarantine exposed patients as early as possible to avoid unnecessary contamination. Join surge planning being carried out in your organization or in your community to identify resources needed to care for patients impacted by COVID-19 in addition to non-COVID-19 patients.
Your nursing staff could be stretched thin during an outbreak, either because staff members have become ill or because they have been quarantined after being exposed to patients who were or may have been infected with COVID-19. Only 14 percent of nurses surveyed by the NNU said that their employer had an overflow plan to accommodate safe care of patients isolated for possible novel coronavirus. Forty-three percent said that if their employer had a plan, they don't know about it.
Make sure your supervisors know who can take on extra hours or work on-call. If you don't see anyone else coordinating this effort, ask your team members about their upcoming schedules and flexibility, then pass that information to the appropriate channels.
Use telehealth when possible to maximize staff efficiency, decrease healthcare staff's risk of infection, and expand access to care to all patients. The Office of the National Coordinator (ONC) has issued guidelines related to HIPAA and the use of technology used in telehealth visits, allowing increased access to virtual visits during the COVID-19 nationwide public health emergency for all types of visits, not just COVID-19 related visits. 
Only 44 percent of nurses in the NNU survey reported that their employers had provided them with information about the novel coronavirus and how to recognize and respond to possible cases.
You can help your team prepare by monitoring the American Association of Colleges of Nursing's Coronavirus Resources for Nurse Educators page. The association says that it will regularly update its resource list with details about informational webinars, the latest news from the CDC, and how individual nursing schools are preparing for COVID-19. Share information appropriately as it becomes available.
Keep up with relevant clinical information.
Under such volatile circumstances, it's easy to just try to maintain the status quo until the situation settles down. But keeping up to date on scientific developments and the circumstances at your workplace is your best way to help your patients while keeping yourself healthy and preventing further infection. Keep tabs on the CDC's COVID-19 updates.
Nursing is always a challenging profession. During an outbreak, the role of nurses can't be overstated, as the positive and negative aspects of the profession are magnified. The public needs caring, well-trained nurses more than ever.