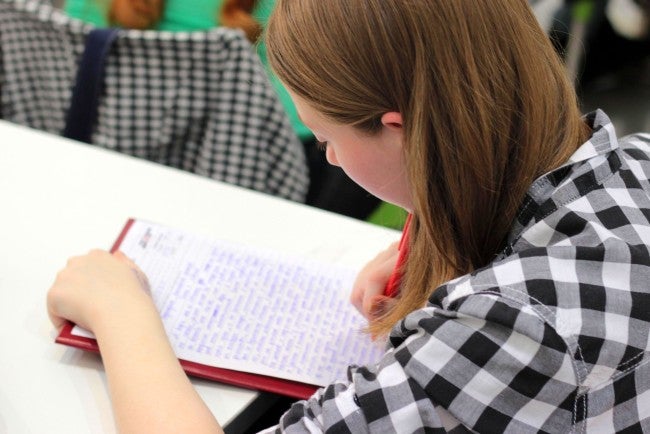 The ACT or SAT for undergraduates, the GMAT or GRE for grad students. Most schools around the U.S. require you to take an entrance exam before enrolling in a bachelor's or master's degree program. There are a variety of entrance exams for both undergraduate and graduate programs alike.
The ACT and SAT are two entrance exams students take while in high school as they prepare to attend college. The exam is often required by most colleges as a criteria for admission. Additionally, some schools require certain scores to allow you to be admitted, with an average or minimum score requirement for students to be qualified to attend. Even schools that don't have a minimum score policy may require the test to be taken before a student is admitted.
The GRE is the common entrance exam for graduate programs. Most graduate programs require this test, but business school often requires a business-specific test, the GMAT. Both of these tests often are used to help candidates be more competitive as they try to gain a place inside a school.
Western Governors University does not require students to take any entrance exam before admission. This removes an often expensive or complex barrier so more students can obtain higher education. 
While WGU doesn't require these specific entrance exams, there are requirements to admission that help ensure you'll be successful at WGU.
Have earned a high school diploma or GED.


Submit official transcripts of all prior academic work completed at community colleges, colleges, or universities you've attended.

Be at least 16 years of age.

Meet any program-specific admissions requirements.
Since WGU does not require the ACT and SAT, incoming undergraduate students who do not have sufficient college experience may be required to successfully pass the WGU Collegiate Readiness Assessment. This online test helps determine your readiness for college-level study in an online environment that relies heavily upon writing ability.
This test is required for the following:
Students entering Teachers College bachelor's degree programs who do not possess an Associate of Arts (A.A.) or Associate of Science (A.S.) degree.

Students entering College of Business degree programs who do not possess a bachelor's degree or higher. 

Students entering a College of Information Technology bachelor's degree program who do not possess one of the IT certifications that WGU recognizes for competency credit.  See more information about transferrable IT certifications.

Students entering the B.S. Health Information Management program who do not possess an associate's degree or an associates of applied science degree in one of the following: Health Information Technology, Health Information Management, Health Information System Technology, Health Information System Management, or Medical Record Technology.
Your Enrollment Counselor will inform you of when you're able to take the test once you have applied for admission.
If you find you're not prepared for immediate acceptance to WGU, the Academy at WGU is a fantastic college readiness course that can help you be prepared for admission to WGU. It will ensure you're ready for an online college program by helping you cover any gaps in your education or readiness.
Submit an official transcript verifying receipt of your bachelor's degree from a recognized, accredited institution. 

Submit official transcripts for all prior college academic work completed.

Must be at least 16 years of age. 

 
Many programs have specific admissions requirements. Click on one of the links below to learn more about these program-specific admissions requirements:
College of Information Technology
WGU makes it easier for more students to begin their journey to a degree by not requiring expensive entrance exams like the ACT or SAT, GRE or GMAT. Our goal is to help students succeed by ensuring they're prepared for an online college education at WGU.