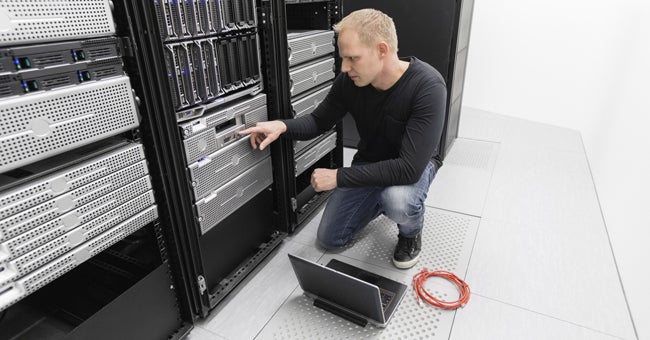 Given the nation's growing dependence on technology and thirst for the next big technological breakthrough, it's not surprising that information technology is one of the fastest-growing industries. And it doesn't look like growth in the IT sector will slow down any time soon. According to the Bureau of Labor Statistics "Occupational Outlook Handbook, computer and IT occupations are projected to grow by 22 percent, adding 758,800 new jobs from 2010 to 2020."
Yet even with today's sluggish economy, employers are struggling to fill IT positions, because there aren't enough workers with the right background and skills. "For IT positions, businesses are looking for individuals with experience," says Mark Relf, a Network Career Program instructor at Computer Systems Institute, which has campuses in Illinois and Massachusetts. "Businesses want the complete package. This package is someone with proven IT skills, which can be shown through certifications and soft skills."
Building a base of knowledge and skills.
To start an IT career path in the right direction, job seekers should seek educational programs that offer IT training. Earning a certification or associate degree in IT will give job seekers the basic knowledge needed to enter the workforce. Bachelor's degrees in IT are also offered via four-year university programs. Job seekers should do their research and find the right program that will help them reach their career goals, while also taking schedule, lifestyle, and finances into consideration.
Soft skills may matter just as much.
The hard skills that employers are looking for will differ depending on the specific job they're trying to fill. However, even if job seekers have the right education and experience, if they're lacking the necessary soft skills that employers are seeking, they could hit a brick wall.
Relf lists verbal communication, time management, customer service, and problem-solving skills as the soft skills that employers are looking for in a prospective IT employee. "The most important part to these skills is making them apparent on a résumé," Relf says. "The catch is that these skills are primarily shown through verbal communication and body language."
To help students get an edge, some schools integrate soft skills into the curriculum. "The Computer Systems Institute works daily with our students in developing the hard IT skills but also [works] daily placing students into situations they can use to reflect on their résumés how they use these [soft] skills to obtain the desired results," Relf says.
Getting a foot in the door.
According to Relf, one of the most sought-after positions in the IT field is computer networking/IT systems engineer. However, these jobs require certifications and years of experience. This can lead to the frustrating career catch-22: You can't get a job without experience, but you can't get experience without having a job.
So how does a job seeker break through this barrier? "The most common starting point for an individual within the IT industry is the help desk," Relf says. "This is where an individual develops that experience to become an IT systems engineer. ...This is not the stopping point for any individual, but a beginning; from here an individual can move into any position they set their sights onto."
---
Western Governors University is a nonprofit, accredited, online university. WGU offers bachelor's and master's online degree programs in IT. Find out more about WGU's online degree programs in IT.
Salary data is gathered from external sources and is not guaranteed by Western Governors University.