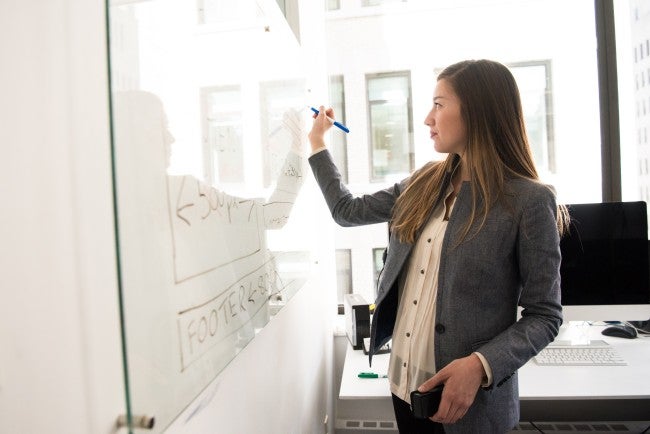 There aren't many professional careers you can try out before fully committing, but substitute teaching is one of them. Subbing is also the perfect place to start if you're pursuing a teaching career because it provides valuable experience and a source of income as you work toward your teaching degree. The benefits of this unique teaching role don't stop there. Subbing allows you the freedom to choose assignments at whichever schools you want. It's also an opportunity to clock classroom hours and build professional relationships, both of which are paramount to paving the path toward your dream teaching job. Whether you're just starting out or are changing careers, substitute teaching is an excellent way to build a future in education. If you're looking to make the switch to teaching, your current bachelor's degree could already qualify you to teach specific subjects as a substitute teacher.
What is a substitute teacher?
Most of us at one point in our education have had a substitute teacher—someone who fills in for a full-time teacher's absence due to illness, parental leave, or other reasons either for a day or sometimes much longer. The "guest" teacher is responsible for delivering the absent teacher's lesson plans and assignments and sometimes may be required to attend staff meetings and lead additional student activities. In other scenarios, the substitute may create their own lesson plan aligned with the learning objectives of the class. 
What are the skills and qualities of a substitute teacher?
The skills and qualities a substitute should possess are largely similar to those of a full-time teacher. They include:
Being punctual and prepared

Keeping a thick skin 

Being authoritative 

Having a sense of humor

Being flexible

Staying enthusiastic and committed to the role

Being able to manage time wisely and effectively

Having excellent speaking, writing, and listening skills
What does a substitute teacher do?
Before your first (and every) subbing assignment, here's what you can do to prepare in addition to creating lesson plans. 
1) Familiarize yourself with the school's procedures and district regulations.
2) Consult with the board of education for the district where you're interested in teaching to learn its requirements for substitute teachers. 
3) Build your competitive edge by completing a teaching internship and/or staying current on teaching practices and technologies. 
The on-call nature of substitute teaching means you could be contacted at the last minute and given little if no time to prepare for class. This is why flexibility (being available at a moment's notice) is so important. Rest assured that if such a situation arises, you can still be prepared by having "emergency" lesson plans and activities on basic subjects ready in advance. 
There are many responsibilities in the day-to-day work of a substitute. Their day might go something like this: 
You receive a call from a school that a sub is needed 

If possible, you find out ahead of time the lesson plans left by the teacher 

You report to class to meet the students 

You deliver the day's lesson and help the students with their assignments

You give a report to the teacher about how the day went, if there were any concerns or issues, etc. A little professional courtesy like this can keep you top of mind for future assignments—and lead you one step closer to having your own classroom. 
How do I become a substitute teacher?
Qualifications to become a substitute vary from school to district to state. The best place to start is by checking with the school you are interested in to find out their requirements for subbing. At the minimum, a high school diploma or equivalent is required. Some require state-level certification or a teaching certificate (granted after successful completion of competency tests). The certificate you'll need will depend on your state and school district requirements. And different grade levels may have unique certification requirements—high school certificates may be more challenging to obtain than elementary school certificates. While some states require an educator certification, some will have unique substitute certificates with or without a bachelor's degree. As mentioned previously in this post, if you already have a degree, it could potentially open the door to substitute teaching assignments, particularly if you are well versed in a particular subject. 
Once you have earned the credentials you need for the school where you want to teach, apply to be a part of their substitute teacher pool and find out any other hiring requirements. After completing all of these steps, you'll be ready to start accepting assignments. To find substitute teaching jobs, contact individual schools, call your local school district, or search online for hiring websites, job boards, and applications. 
How much does a substitute teacher make?
Substitute teachers are in constant demand at all levels pre-K through high school and in all subject areas and specialties. As of May 2018, more than 500,000 substitute teachers worked in the U.S., according to data reported by the Bureau of Labor Statistics. This data also included the mean annual wage and mean hourly wage for substitute teachers: $32,360 and $15.16. 
Go from a substitute teacher to a full-time teacher.
On-call teachers can work in any public, private, or charter school and can also work as tutors or teach online classes. A substitute teacher often works directly in schools and maintains the same schedule as teachers on staff. Substitutes do not often have to come in as early or stay as late as classroom teachers, and thus the job does provide more flexibility—perfect for working students pursuing their teaching degree.  
If you're interested in teaching and want to pursue it as a full-time career, substitute teaching is an excellent way to get your feet wet and put your skills to work in the classroom. WGU offers a diverse selection of teaching degrees and accredited programs for aspiring teachers. Courses are completely online, giving you the flexibility to balance your studies with work and life. Substitute teaching fits perfectly into this flexibility and can truly pay off. If you work as a sub while pursuing your degree, you'll have gained valuable experience in the teaching field by the time you graduate. Get started on your teaching degree program today with WGU!