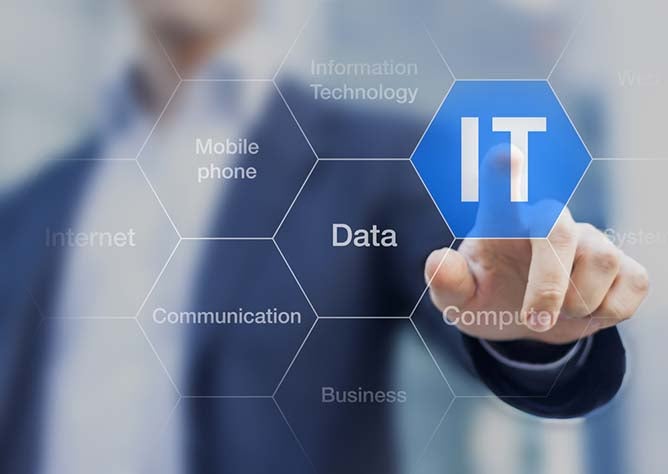 IT employees are in high demand in the digital age. Technology has become a mission-critical aspect of nearly every industry, meaning that even fields such as forestry and manufacturing need workers who are adept at designing, managing, and troubleshooting computer networks and data systems.
Earning a bachelor's degree in information technology can prepare you for a wide range of IT careers by arming you with the foundational knowledge you need to be successful.
The basics of IT.
Organizations in every industry need skilled IT professionals with solid training and expertise. But thriving in an IT role requires much more than technical knowledge. The Computing Technology Industry Association notes that soft skills, such as communication, problem-solving, and project management, are also essential for success.
Here are some of the fundamental skills—hard and soft—that you'll develop in an IT program.
Technical acumen. IT programs give students a basic understanding of computer and network components and how they function; how computers store and retrieve information; and how to classify, install, configure, and maintain technologies such as printers, laptops, operating systems, network security systems, and more. These core technical skills serve as the foundation for more advanced skills.
Problem-solving and troubleshooting. Because troubleshooting is one of the most common IT tasks, IT employees must be able to solve problems and fix technology systems when they aren't working correctly. Identifying the source of a problem is critical, and an IT program will teach you how to assess situations, identify errors, and develop solutions.
Communication. IT professionals must be able to communicate effectively about IT systems, orally and in writing, to audiences of varying technical know-how. This skill is especially useful when IT experts are supporting professionals such as marketers, retailers, and lawyers.
Data management. IT programs teach students the concepts and terminology used in data management. Students also learn how to structure queries and use commands to define, retrieve, and manipulate data.
Information systems management. IT programs teach students to view IT as an organizational resource that must be managed in a way that supports the organization's goals. This approach helps IT experts collaborate with and assist other departments of an organization.
Basic programming. IT programs teach students the fundamentals of scripting and programming and impart an overview of some of the programming languages they might encounter in their IT careers.
Web development. IT programs introduce students to HTML5 and CSS, the foundational programming languages of the internet.
Project management. IT professionals need to be able to plan, execute, and monitor projects, and a bachelor's-level program teaches how to schedule projects, allocate resources, assess risks, measure performance, and report on results.
Leadership. Leadership skills go a long way for IT professionals hoping to move into management or director-level positions. Through coursework and practice, students learn how to lead and manage effectively in diverse business settings by developing strategies for planning, managing conflict and change, and more.
Why the fundamentals matter.
The fundamental skills learned during an IT program set graduates up for success in all kinds of IT careers and make them versatile assets to any organization. With a degree in IT, you'll be ready to land entry-level positions, such as service technician, and work your way up to senior management–level positions. With the right fundamentals, you could eventually run the IT department at a successful company, serve as an IT consultant or business analyst for large corporations, design data systems or communications networks for diverse organizations, or even help solve crimes as a computer forensic analyst.
What's more, you'll have a solid foundation of knowledge if you want to pursue a master's degree in a more specialized area of IT, such as cybersecurity or data analytics.
In virtually any industry you can think of, there's a need for employees with a solid understanding of how IT systems work and how they support an organization's goals. Earning a bachelor's degree in IT opens the doors to successful careers in any industry.