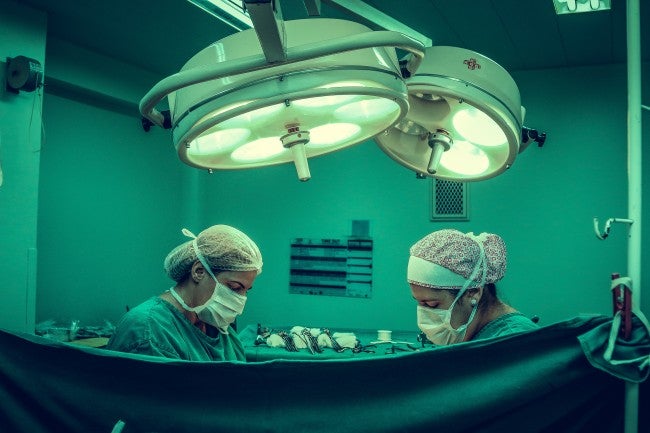 Surgery, pediatrics, emergency, geriatrics—the list goes on and on. If you're currently a nurse, you know there are many different levels of nursing and specialties that you can pursue. If you're working to become a nurse or are looking to enhance your career, it's important to understand the different options you have when it comes to nursing specialities. There are such a wide variety of options—becoming an RN doesn't mean one singular set of responsibilities. There are so many paths you can take to further your career and get into a field you're truly passionate about.
Surgical nurses are a critical part of the healthcare team and ensure that patients are well cared for before, during, and after their surgery. They need specialized skills and knowledge in order to be prepared for working in a surgical setting. Surgical nursing is a highly sought after specialization, and if it sounds exciting and interesting to you, it's important to learn what you need to do in order to be prepared for this career path. Learn more about what surgical nurses do, and how you can get the education and certification you need to pursue this career.
What does a surgical nurse do?
Surgical nurses are also known as perioperative nurses, and work in the OR and with surgery patients before, during, and after their surgery. There are many specific things that a perioperative trained registered nurse will do to help surgeons and nurse practitioners during surgery. They usually work directly with a doctor on specific surgery patients to ensure everything goes smoothly.
There are many types of perioperative specialities that a registered nurse can pursue, and all are crucial for a successful surgical procedures. Some of these types of nursing include:
Scrub nurse. Scrub nurses do a surgical scrub and go into the surgery with the surgical patient and doctors. They set up the operating room for the patient, ensure all the tools are sterile and ready to go, hand tools to the doctor during the surgery, and perform other duties inside the surgical room.

Circulating nurses. Circulating nurses are the ones a patient will meet with pre-procedure. This nurse will go over consent forms, answer questions about the procedure, do preoperative assessments, make sure the equipment is ready to go, and may update family members on the surgery status during the operation.

RN first assistants. These nurses work directly with doctors on the surgery, helping to control bleeding, watching for signs of complications, performing stitches, applying bandages, and more. They work directly with a doctor and give assistance in whatever way is needed during the actual surgery.

PACU nurses. Post-anesthesia care units are where patients are taken after their surgery is complete. These nurses help patients come out of their anesthesia, helping them stabilize and prepare for transfer to another unit of the hospital, or for discharge for out-patient procedures. They update them on their status, work with family members, take vital signs, and ensure the patient is comfortable. They also help them understand their pain medications and how to care for themselves.
Surgical nurses may choose sub-specialities so they work specifically with certain patients and with certain surgeons. They may choose to work directly with plastic surgery patients, neuro surgeries, pediatrics, oncology, or many other subspecialties that can set them apart.
Registered nurses play vital roles in ensuring a patient is prepared and taken care of as part of their surgical procedure. Surgical nurses need to have many characteristics to help them thrive in this high-stress, high-stakes environment, including:
Patience

Flexibility

Sense of humor

Good communication

Focus

Multitasking

Ability to be calm under pressure

Good decision making
Scrub nurse vs. surgical tech.
The role of scrub nurses and surgical techs may seem similar, but there are important certification differences that make their roles unique. Surgical techs are inside an operating room (OR) and handle the equipment. They make sure it is sterile and may hand cleaned instruments to surgeons. However they are not certified to do other roles, such as prepare patients, check vital signs, or monitor patients. Scrub nurses may take on other roles inside and outside the operating room in an RN capacity, but surgical techs generally work for the RN, and focus mainly on surgical equipment. Surgical technicians are not licensed. 
Surgical nurse work environment.
It may seem straightforward, but there are a surprising number of places where surgical nurses can work. Some of these places include:
Emergency rooms

In-patient operating rooms

Out-patient operating rooms

Recovery rooms

Medical-surgical care unit

Clinical settings
There are many places where surgeries may take place, and nurses can be found in many of these places.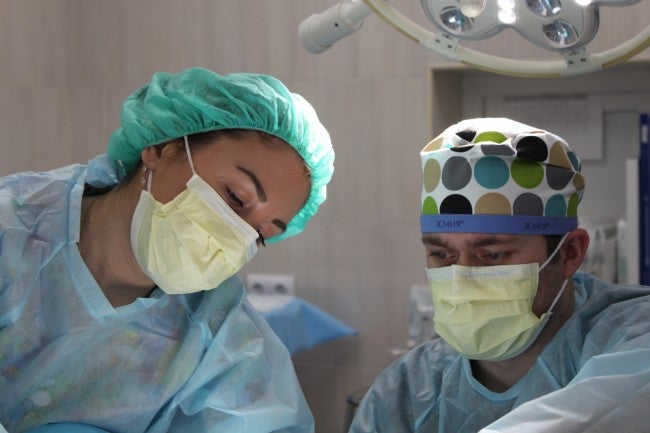 Surgical nurse education.
What degree is needed to become a surgical nurse?
In order to become a surgical nurse, you'll have to be a licensed RN. RNs can obtain licensure through a diploma program, an associate's degree, or a BSN. Current RNs may also see that there is great benefit to earning a BSN to help them stand out from the competition when it comes to specializations. A BSN can give you additional training and credentials that boost your résumé and make you more appealing to hospitals hoping to reach magnet status. 
Surgical nurses additionally will have to have a few years of experience as an registered nurse before they are able to move to a surgical specialty. It's important to get practice working with patients and learning more about nursing so you can be prepared for the rigors of surgical nursing. 
How long does it take to become a surgical nurse?
It depends, but if you're not currently an RN it will take you at least 4 years to become a surgical nurse. You'll need at least 2 years to complete your RN program, and another 2 years of experience in order to be qualified for surgical nurse certification. It may take more time if you opt for a BSN program or want to pursue additional certifications. If you're currently an RN, you are already well on your way to becoming a surgical nurse. You'll need roughly 2 years of experience before you can obtain surgical nurse certifications, and perhaps longer for more in-depth specialties.
Surgical nurse certification.
Beyond an RN license, there are additional certification requirements in order to become a surgical nurse. The CNOR and CNFA are both certification options for RNs who want to become perioperative nurses. 
The CNOR certification is given by the Competency and Credentialing Institute (CCI) and helps nurses prepare for providing care to patients before, during, and after surgery. To qualify for the CNOR exam you must have an unrestricted RN license, be working full-time or part-time as a perioperative nurse in clinical practice, nursing education, administration, or research and have two years of experience in perioperative nursing. 
The CNFA certification is also offered by CCI and offers credentials for RNs who want to become registered nurse first assistant. 
In order to become a RN first assistant you'll have to have your CNOR certification, have a bachelor's degree, and attend an RNFA program. You'll also have to have practice hours as an RN first assistant.
Surgical nurse certification exam.
Surgical nurses may want to further their experience and options with a medical-surgical nurse certification. In order to sit for the medical-surgical nurse exam, you'll need to be an RN and have experience working in a medical-surgical exam setting.
On average, surgical nurses earn a yearly salary of around $73,000. But this will greatly depend on your specialty, where you work, and your education level. For example, RNs who also have a bachelor's a degree can often expect higher pay than those who don't have higher education. RNs working as RN first assistants can expect a yearly annual salary of over $96,000, due to additional training and certification requirements. And RNs working in larger cities or hospitals may be able to earn more due to higher demand. 
How much does a surgical nurse make per hour?
On average surgical nurses can expect to make $35/hour, which ends up being approximately $73,000 per year. Surgical nurses may be able to get a higher salary with additional experience, education, and certifications.
Surgical nurse career outlook.
Nursing expected to grow 12% by 2028, which is twice as fast as the national average for career growth. Medical fields are continuing to grow and expand, and as medical technology and understanding continues to enhance, more surgical nurses will be needed to keep up with demand. Surgical nurses can move from scrub nursing, up to RN first assistants, and become an integral part of a surgical team. Surgical nurses may stick with one particular doctor and become highly specialized in certain types of surgery, making them invaluable. 
If you're interested in surgical nursing, a bachelor's degree in nursing can be a great place to start to develop your career. A BSN will help you stand out from the competition, enhance your résumé and can help you earn more money. This exciting and lucrative nursing path is a great option for current or aspiring nurses.