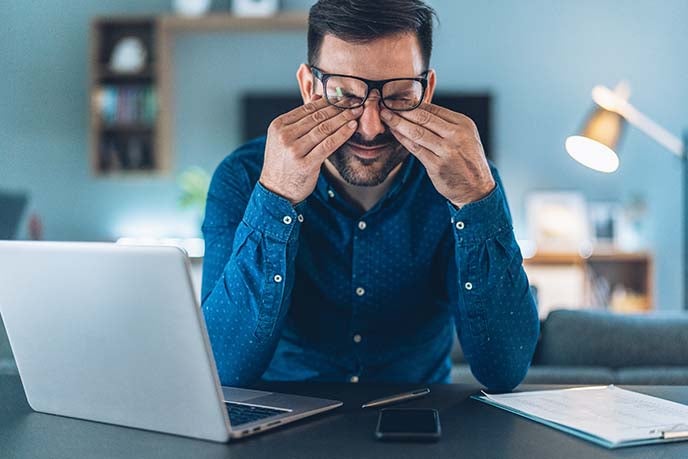 You loved your IT job when you started it. You were excited about the work, the projects, your coworkers, and the company. But then something happened. Lately, you've been dreading going to work. You're tired and stressed out all the time, and you're having a hard time focusing on your job.
Maybe you're having a bad week. Maybe your current role isn't the best fit for you. Or maybe it's something more pervasive: IT burnout.
Burnout is a common affliction—especially among technology workers, who tend to work in high-stress environments. A study conducted by Blind Workforce Insights found that 57 percent of technology workers suffer from burnout, and, according to the journal Annals of Work Exposures and Health, women—who are already in the minority in the tech industry—are more likely to suffer from burnout than men.
What is IT burnout?
Burnout goes beyond having a bad day or feeling tired or stressed. It even goes beyond having a bad relationship with your workplace or boss.
The Mayo Clinic defines job burnout as "a state of physical or emotional exhaustion that also involves a sense of reduced accomplishment and loss of personal identity." It emphasizes that burnout isn't a medical diagnosis but acknowledges that it could be related to other health conditions, such as depression.
To help determine if you're suffering from burnout, the Mayo Clinic suggests asking yourself some key questions, including:
Do you have a hard time going to work?
Is it hard to focus?
Do you have unexplained headaches, stomach problems, or other physical ailments?
If you answered yes to any of the Mayo Clinic's questions, you might be burned out. Burnout can stem from several factors, according to the Mayo Clinic. You could be burned out because you lack control at work, because your work environment is dysfunctional, or because your work-life balance is off.
Avoiding IT burnout.
IT workers might be particularly at risk of burnout because IT is, by nature, a high-pressure industry. Long hours, high-stakes development sprints, high hopes for rounds of start-up funding, and shifting job expectations can all contribute to stress, which, after a while, can grind down even the most passionate workers.
Certain patterns arise when you lose steam in your work. Be aware of—and avoid, if possible—these behaviors, which can reinforce your workplace dissatisfaction.
We don't mean to sound like your parents, but you need to get to bed at a decent hour and eat your veggies. Poor sleep, poor eating habits, and a sedentary lifestyle only increase your stress, which makes burnout worse. If you're struggling with your mood or outlook, try to make some positive physical or behavioral changes.
Even if you love your job, you shouldn't be working 24/7. That's doubly true when you're burned out. Letting your vacation days go to waste could make you feel increasingly stuck. Take a break to recharge and nurture outside relationships and hobbies, and come back to work with a refreshed mind.
Diminished personal life.
Burnout often afflicts passionate employees because they wrap their jobs into their identities. When you leave your personal relationships untended, you might grow to depend more on work for fulfillment. Actively nurturing relationships with your friends, family, and partners can help you find satisfaction outside the office—and potentially reinvigorate your enthusiasm for your work.
Battling IT burnout.
If you're burned out, you need to take steps to remedy it. These steps can be small, like scheduling a much-needed vacation; they could also be big, like working with a mental health professional to address a burnout-related depression. What you do will depend on how severe your burnout is and what's at the root of it.
The first thing to do is to go to the source: your job. If you have a good relationship with your boss, schedule an honest chat with them about how you're feeling. They might be able to lighten your workload or shift your responsibilities. After all, you're no good to your company if you're so overwhelmed that you can't do your job.
If your boss can't help you, or if you're still unhappy after chatting with them, it might be time to update your résumé and start looking for new jobs. Maybe your current job or field is no longer right for you. If that's the case, start looking for something that excites you. You might even need to get back to what you loved about IT in the first place. If you have the energy, consider starting a creative project on a site like GitHub or getting a side gig doing coding or development work.
It could also be time for a complete career change. If it is, consider heading back to school for a degree in a new field or an advanced degree. Maybe you could stop answering to a manager and become one.