There's been a lot of talk across the educational landscape about the importance of character education. This recent op-ed from Dr. Rebecca L. Watts, WGU Regional V.P., cited Gallup Poll findings "that 81 percent of Americans reported being dissatisfied with the moral and ethical climate of the country." 
The Department of Education speaks to the inherent values of character education in this way: "Character education is a learning process that enables students and adults in a school community to understand, care about, and act on core ethical values such as respect, justice, civic virtue and citizenship, and responsibility for self and others. Upon such core values, we form the attitudes and actions that are the hallmark of safe, healthy, and informed communities that serve as the foundation of our society."

Character Education for a Better Society 
Western Governors University believes Character Education is necessary to create learning environments where all students have a chance to thrive, and has launched a new project—the Character Education for a Better Society (CEBS) to champion this work. 

This national online competency-based program will enable K–12 educators to build schools embedded with character where every child achieves academically and thrives socially. The CEBS program is grounded in the belief that character education is a comprehensive school-based approach that intentionally focuses on promoting character through the curriculum, school activities, and engagement with family and community. There's an intentional focus on skills linked to teaching and modeling in educational environments that prioritize character to promote individual and collective flourishing.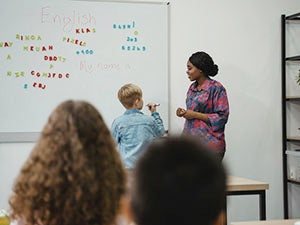 The goals of the CEBS project are to:
Develop a proven framework for online competency-based professional development and ongoing professional learning to prepare and support educational leaders in building transformative and sustained cultures of character in K-12 schools.
Establish and elevate CEBS as a showcase program in Teachers College so that it is recognized as the premier go-to source for online competency-based character education.
Character Education Professional Learning Program
In its inaugural year, CEBS is offering a Character Education Professional Learning (CEPL) program designed to help principals and teachers create a school culture that promotes character development, intellectual rigor, and personal thriving for students and staff. The CEPL program will be offered through two tracks, one for principals and one for teachers, to implement character education across the curriculum and throughout the school community. In addition to the option of earning valuable microcredentials, education leaders will engage with fellow principals and character education experts through the CEPL online community and a series of live online events including monthly webinars and quarterly convenings.
Summer Institute for Principals
The first convening was a two-day live virtual summer institute with school principals from 12 different states.  Dr. Amy Johnston (University of Missouri, St. Louis) presented "Meet the Moment with Character and Care" as the opening keynote. Johnston is a Senior Educational Leadership Coordinator in the Department of Educator Preparation and Leadership and a highly regarded consultant on Character Education.

She shared:

Steps to making character education a priority
How to create an effective and sustainable character philosophy (Not just a program!)
The importance of authenticity and vulnerability in leaders
The importance of a healthy adult culture
Strategies to build a character education initiative
Character Education Starts with Leadership
According to Johnston, for character education to take hold and be effective, it has to start at the top, with leaders embracing and demonstrating a commitment to the philosophy and practice. She defined character education as an understanding and belief in the value of all people, an agreed-upon building-wide philosophy on how people ought to be treated, and a carefully implemented plan to see that this philosophy is lived out. The audience was cautioned that this work is neither easy nor fast, but worth the effort. Leaders with often limited resources were relieved to learn it can begin with existing resources. The institute helped them understand how to scale and sustain these efforts with the resources on hand.

Johnston led the cohort through a 'start with the self' model so they can be prepared to know themselves well, build authentic relationships with their entire staff, and then only after the leaders and adults understand this work well, bring in students for character building.

"The literature is really clear that effective character education begins with the leader or principal being a person of character and embodying those traits to their staff," said Dr. Christina Dehler, Associate Dean and Director of the Character Education for a Better Society (CEBS) project.  "By addressing the adult culture first in any school, the teachers can develop vulnerability and an open, honest culture of truthfulness that supports this work."

Self-reflective exercises helped school leaders better understand their leadership and conversational styles to help build authentic and trusting relationships with their staff. There were also discussion exercises on the power of vulnerability in servant leaders. 
Where Character Education and Social Emotional Learning Overlap
"One common question we get from school leaders," said Dehler, "is where Character Education starts and Social-Emotional Learning ends. They're confounded by this. We were very intentional about placing a session on the overlap between Character Education and Social-Emotional Learning right after the first-day keynote."

"It provided an important moment to help folks wrap their heads around where the line is – not the line that divides character education and SEL, but the lines that connect them," said Dehler. 

Regarding this overlap of Character Education and Social-Emotional Learning, WGU staff members Josh Plaskoff and Hilary Simon, and Master of Science, Educational Leadership (MSEDL) Program Mentor Owen Griffith, offered up a session that explained Character Education as the content of what we model and teach in order to cultivate students of moral character and schools of character. Social-emotional learning is the how by teaching the social and emotional skills that help us build better relationships with ourselves and each other and to make ethical, caring decisions. In this illustration from the session, we can see how social-emotional development enables character development: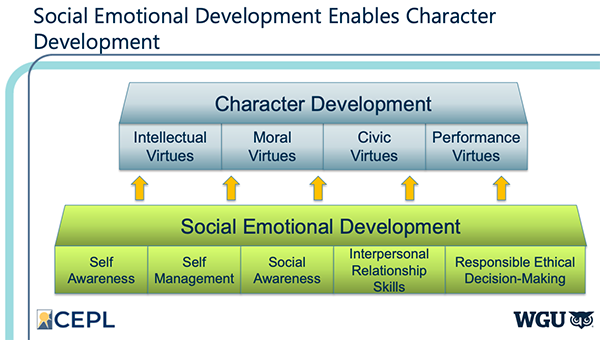 The results from these programs are thriving students and flourishing societies. Conceptual frameworks for addressing these important skills within the pressing challenges and demands from administration, curriculum, and day-to-day logistics were shared and further explored in small group workshops.
Navigating with Practical Wisdom
The summer institute's day two programming kicked-off with a keynote by Dr. Karen Bolin, Director Emerita and Senior Scholar at Boston University's Center for Character and Social Responsibility. Her keynote topic was "Navigating with Practical Wisdom: A Compass for School Leaders". 
Dr. Bohlin showed principals how to navigate conflict by 'minding the gap': checking and controlling one's first impressions and biases to fully appreciate and understand another person's point of view. Bohlin drew from her own experience as the Head of Montrose School about the damaging consequences of not curbing first reactions. She walked principals through a Coaching Conversations Protocol using the Practical Wisdom Framework to teach them how to plan a course of action and transform a first reaction into a practical, wise response.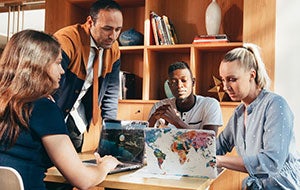 Bohlin had principals think of three small steps they could take immediately with their staff to develop the habits of mind, heart, and character needed to manage and overcome initial responses. A key takeaway from this session was the understanding that principals helping themselves and others get unstuck from assumptions and biases is what is going to lead them toward transforming a school culture from current state to desired state.
Get Involved and Learn More About Character Education
Future events (including quarterly convenings and monthly webinars) will provide practical, applicable advice for building character education for both adults and students. The webinars will be shared live with the cohort but will later be available on-demand for other teachers in that school and for WGU alumni. 
The Character Education for a Better Society (CEBS) project is working to be a catalyst to both individual and societal flourishing by developing and delivering online competency-based professional learning programs in character education.

To explore more about character education, watch this compelling webcast hosted by WGU Teachers College SVP and Executive Dean Dr. Mark Milliron with guests Professor James Arthur, Director of the Jubilee Centre for Character and Virtues at the University of Birmingham; and Dr. Beth Purvis, Senior Program Director of the Education & Character Program of the Kern Family Foundation.

To learn more about bringing this educational programming to your school, and joining a future cohort, reach out here.