Every new teacher has felt it…that terrifying moment when they are standing in front of their classroom facing actual students where every decision they make matters. There's that knee-knocking when they have their first parent conference to discuss difficult subjects or write and present an IEP (individualized education plan) within stringent federal guidelines for a student with special needs. 
These critical conversations don't have to be attempted live for the first time in the classroom anymore.

Imagine instead: a simulated classroom in a virtual reality environment where human-led avatars offer a fail-safe place for students to practice these conversations, reflect, learn, and try again, until they perfect the process. This simulated environment is being used by Western Governors University in the Teachers College, in both undergraduate and graduate degree programs. 

The immersive experience is through a partnership with Mursion. "The simulations allow future teachers to practice in an authentic, replicable, realistic, and safe environment," says Shari Slivka, Director, Assessment & Curriculum Program Development. "In addition to the actual practice sessions in Mursion, students complete reflective exercises afterward and are assessed on what they have learned, including their philosophy about how they will bring these practices into their future classrooms in effective, productive, and inclusive ways. In addition, the Teachers College intentionally cast the virtual classroom avatars to reflect a diverse student population. Through this, students learn empathy and leadership in applying learnings from our Diversity, Equity, and Inclusion curriculum into their real lives and professions."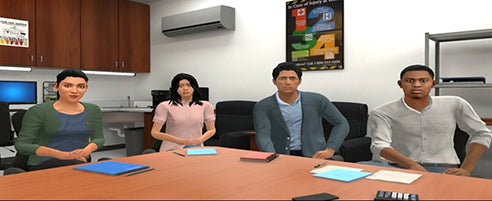 Above is a screen shot from a live practice session a WGU student had interacting with four human-led avatars.
Managing Engaging Learning Environments is a component of WGU's Teachers College Professional Core and is a required course for all initial licensure candidates. "This course prepares candidates to establish and contribute to safe and productive learning environments," says Slivka. "Our students in our Professional Core curriculum participate in over 30 hours of pre-clinical experiences both in-person and virtually. The virtual simulation time brings theory into practice by creating a learning environment supportive to diverse populations of students. What's more, they can do it from anywhere they can access the Internet."
The VR simulation is also used in Fundamentals of Diverse Learners, another Professional Core course required for all initial licensure candidates. This course teaches rising teachers to identify and support the individual needs of diverse populations of students, including students with dyslexia and students with other special needs. Additionally, the course trains teachers to differentiate instruction and address the needs of gifted and talented learners. "Students learn to differentiate and personalize their instruction," says Slivka, "so they can create inclusive learning environments that are culturally responsive and safe for all students." 

An example of where the immersive environment is being used with extraordinary impact is in the Master of Arts in Special Education program (MATSPED). In this scenario, MATSPED students practice discussing and developing unique behavior intervention plans for students, parent-teacher conferences, and the federal Individualized Education Plan. 

"Virtual and augmented reality simulations hold the potential to bring deeper learning to life in a way that powers professional practice at another level," said Dr. Mark David Milliron, WGU SVP and Executive Dean of the Teachers College. "Based on our early results, this work fits right in with our commitment to championing next-generation education."

In the scenario pictured above, WGU student Mary (not pictured) practiced and effectively proved her skills. Her evaluator commended her for a well-developed behavior intervention plan that included appropriate replacement behavior for student "Eric" to complete his assignments with the accommodation that he could use a break card to request breaks. Mary showed how she could build learner engagement by demonstrating that she could fill downtime or unstructured time during the day with more purposeful activities. 
"This immersive experience with Mursion empowers our students to have a true-to-life experience for conducting special education meetings," said Roben Daubler, Special Education program chair. "The feedback from students has been very positive. They are excited to use this learning tool to apply skills in a safe environment so they can practice and learn prior to doing this work in their actual classrooms."  
"Mursion provides immersive VR training for essential human skills," says Mark Atkinson, Mursion CEO. "By using trained professionals who orchestrate interactions between learners and avatar-based characters, Mursion simulations achieve the realism needed to deliver measurable, high-impact results."

WGU Teachers College offers multiple degrees in Special Education including, the Master of Arts in Special Education-K-12, Bachelor of Arts in Special Education (Mild to Moderate), and a Bachelor of Arts in Special Education and Elementary Education (Dual Licensure). 
Shari Slivka, M.Ed., joined WGU in 2016 and became the Director of Assessment and Curriculum in 2018. She leads the Design and Development team for the Teachers College, responsible for creating, maintaining, and enhancing the learning and assessment experiences for our students. Prior to joining WGU, Shari spent more than 20 years in online learning in both higher education and corporate settings. She began her career as an elementary school teacher and left the classroom to work on a National Science Foundation Grant. Later, she worked in non-profit and the private sector developing custom and off-the-shelf training programs. She also worked at Northcentral University and Pearson Learning Solutions. She earned her master's degree in Learning and Instructional Technology from Arizona State University.