WGU Teachers College SVP and Executive Dean, Dr. Mark David Milliron, offers insights on the recent WGU – NGA partnership announcement stemming from the August 2021 Denver convening of the National Governors Association, Chairman's Initiative. Read the entire announcement here in the WGU newsroom. Photos courtesy of the National Governors Association.
Western Governors University recently announced an exciting strategic partnership with the National Governors Association to "address the future of work and education, building best practices in state policy that will result in greater access to higher education and economic prosperity for individuals and their communities."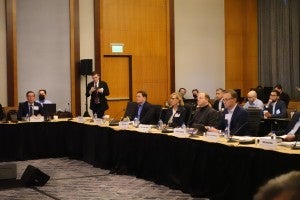 WGU President Pulsipher at the NGA convening
The partnership stems from some catalytic conversations that occurred during the National Governors Association convening dedicated to diving deep on Arkansas Governor Asa Hutchinson's NGA Chairman's Initiative. I attended the convening as a member of a group of invited experts, which included among many other education innovators WGU President Scott Pulsipher and Secretary of Education Dr. Miguel Cardona. 
The gathering was a fascinating look into the next-gen leading and learning taking hold across the country. As Governor Hutchison said so well, "21st Century opportunity requires 21st Century education." For example, his state of Arkansas now requires all high school students to have access to some kind of computer science class, be it coding, digital arts, web design, virtual reality, or AI.
The bipartisan governors in attendance each shared thoughts on their state's and territory's initiatives to prepare today's students for tomorrow's digital opportunities. The takeaway from these compelling presentations by the governors is clear. We need to act on this crucial moment of digital opportunity by advancing practice and shaping policy about technology, with technology, and beyond technology. Let me unpack this a bit for you.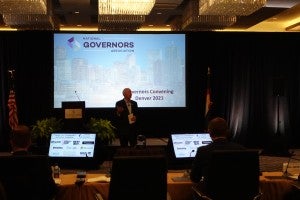 Governor Hutchison presenting to the NGA
Learning about technology is the scenario that Governor Hutchinson and others were thoughtfully advancing and describing in this meeting, where we provide students with opportunities to have a course, courses, or co-curricular experiences in computer science or other digital domains. We want them to be exposed to and learn more about these topics as early as possible, so they can be accumulating knowledge and skills throughout high school and be better prepared for the opportunities that follow. It's important to note that our students will not be learning about technology unless our teachers have done the same and are prepared to share that knowledge with them. So, the entire education community from teacher to learner needs support, professional development, and access to quality preparation. The good news is, as we prepare our teachers and students to learn about technology we are, as Governor Hutchison said, giving them a 21st education that will help them access 21st century opportunities—empowering them to have access to and make better choices in a digitally fueled world.
The tricky part is this: for teachers and students to learn about technology effectively, they have to learn with technology. We need better broadband access; we need more laptops and tablets. At this convening, there was a lot of passion about the digital and device divides holding so many low-income students and communities back. The pandemic has forced some access issues to be addressed, so progress is happening. However, we have a long way to go. As students are learning remotely or in hybrid scenarios, they are gaining the skills that will be required when they enter the workforce or higher education, or like many students today – both university and the workforce simultaneously. From workforce training modules and student portals, to using an ever-expanding library of learning management systems and apps – today's middle and high school students need to be learning with technology to prepare for what comes next and to open their opportunities to master content today. And while the pandemic did help broaden access to technology, it also showed us how unprepared many very well-meaning and well-educated teachers are when it comes to using technology for instruction. We need to address this by supporting high-quality professional development ASAP and making it the norm that schools and colleges make better-blended use of technical infrastructure post-pandemic.
The good news on this one is when we learn with technology, we have the entire world at our fingertips. I can be at home in rural Western North Carolina and walking through a display at the Louvre or listening to global leaders at a conference in the United Kingdom discuss space travel, all from the back deck. However, we need to ensure that children in the inner city and rural Appalachia all have access to these capabilities, and the educators and schools that support them are ready to make the most of it.
The third critical aspect we need to address is that learning about technology and with technology is not enough. We need to learn beyond technology, to look deeply into the ethical and character education sides of the learning experiences. We can't train someone to grow up and be a genius at artificial intelligence without character education and ethics and expect good outcomes. Indeed, if we champion tenacity, grit, and growth mindset, coupled with high tech skills, and then neglect decision making, character, and developing an ethical core, it feels like the recipe for supervillains. We need to make sure we are educating a generation to use their powers for good. The good news on this third aspect of embracing technology is that when we learn beyond technology, we become powerful. This is how we can grow economies, affect social change, and create better and healthier communities.
In closing, it comes to this: the governors at this event made this case loud and clear. We need to invest in and innovate around closing the digital divide and expanding digital opportunities. We need to better use infrastructure and education to ensure we are teaching and reaching our students in the best way possible to open their pathways to possibility. Moreover, to succeed as a nation and take advantage of the digital opportunities presented before us, we will need more low-friction, high-value pathways for students. But to make the most of all this work on these pathways, we'll need dedicated educators and leaders committed to inspiring and instructing our students about, with, and beyond technology.