Dr. David Bell is a Director and Associate Dean for Academic Programs at the WGU School of Education. Trained in finance, he worked in corporate for several years before becoming an educator serving in a variety of roles from teaching 5th – 8th-grade math and science in Chicago's public schools, to Associate Dean, Dean, and Professor roles. He is an advocate for school transformation and STEM integration.
Addressing STEM Teacher Shortages
As part of our mission to open pathways to opportunity, the WGU School of Education is frequently updating and revising its curriculum - always evolving to meet the demands of the world that we live in today. Dr. David Bell has been integral in that work in the Teachers College. "If we are going to address the STEM (Science, Technology, Engineering, and Math) crisis it needs to be from a national stage, and that's where WGU can play a significant role. We work beyond single communities and find future educators willing to be the foundation to support next-gen STEM professionals and schools nationwide," said Bell. In fact, according to Lightcast, a U.S. labor market source platform, WGU's Teachers College was the top university producer of STEM degree conferrals in the nation in 2021, with 1,275 STEM teaching graduates that year.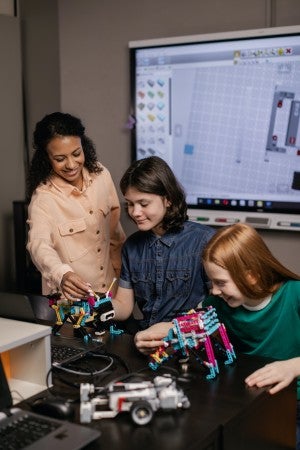 Regarding STEM teacher shortages, Bell says we must address the reality that a person with STEM skills and credentials can choose from a multitude of careers.
"We need to pay teachers more to be competitive and treat them with the highest level of respect for their work," Bell said.
"Fortunately, there are many people coming into STEM education from other career pathways because they want to contribute in some way to the future of the PreK-12 school community," he said. "That's what happened for me… I was in finance. I got the call to be an educator after being in the business world for quite a while."
An important ongoing conversation in STEM education right now is around integration into other subjects. "There are so many ways to teach STEM principles across a variety of subjects and across grade levels," said Bell. "The evolution of this country, its development technologically, the economy, climate, all of these topics easily transfer into building STEM skills at that same time as reading, writing and more, and that includes thinking about engineering and computer science," he said.
WGU is taking this same integrated approach to its own curriculum and is a nationally recognized leader in STEM education. The Teachers College at Western Governors University's (WGU) School of Education has been named as a continuing partner in Beyond100K, a multi-sector network addressing the national imperative to train science, technology, engineering, and mathematics teachers.
Integrating STEM Across Subjects
"As far as how deep STEM integration plays out on the ground in schools and communities," said Bell, "one example is how we joined forces with one of our 2,800 school district partners to offer a program called Footballs to Formulas. It's a great model. We partnered with Los Angeles Unified School District and the LA Chargers to enhance the school district's teachers' ability to support and engage students in applying mathematical reasoning and data literacy skills to their math classes in a way that was exciting, equitable, and culturally relevant."
Students in the program complete a Problem of the Week (often based on statistics from actual Chargers games) and can be entered for a chance to win prizes including a chance to attend LA Chargers games, and Chargers promotional items like shirts and other emblematic items. Teachers randomly picked and submitted three student tasks to the Chargers portal each week and students can also upload their own tasks with parental or guardian consent. "It's been a wonderful way for teachers to say, 'hey kids, here's what statistics or math looks like in real life,' so they see its relevance and application to real-life scenarios," said Bell.
Those real-life scenarios include changes to the approach within the School of Education to help prepare future teachers to excel with the shift to so much virtual learning in the last two years. "We need to prepare future educators for that. That opens so many doors. From virtually dissecting a frog in a completely safe virtual environment, to using apps, gaming, and widgets to help students think across disciplines integrating STEM. We need to be thinking creatively about how to use all these tools at our disposal to engage students and prepare them for whatever tomorrow may bring," said Bell.
Influencing the Next Generation of Students
"The students we are preparing at WGU will become educators influencing the next generation of students – students that we as a society will be looking to have a significant and positive impact on the huge issues we are facing today such as the global warming crisis," said Bell. "We need STEM educators to teach and inspire, and we need their students to go out into various roles and careers to solve problems not yet realized.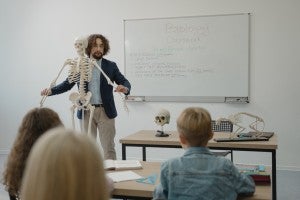 "If we can start that work in 4th or 5th grade (or even earlier) imagine what those students can contribute to the STEM ecosystem when they are in their 20s."
As Bell points out, that's the benefit of STEM. It's a universally needed skill set for problem-solving. It builds the foundation for looking at a theory or a complex problem and figuring out how to solve it. "My son is in college majoring in biomedical engineering," said Bell. "He talks a lot about the importance of a design thinking process and how he values being curious about the world around him. That's what we need across the U.S. We need to develop students who are curious about what they see, hear, or read and can be confident to challenge the status quo."
Making a Positive Impact on Communities
In closing, Bell reflected on what drove him to make the shift from his successful corporate finance career to become an educator – from teacher to professor and college administrator. "The thing that drew me to education was the impact I could have on my community. What drew me to WGU was the ability to do this on a large scale across the country."