In honor of Teacher Appreciation Week this month, we'd like to celebrate a Presidential Award-winning teacher who now brings her talents to bear as a WGU Teachers College faculty member helping educate the next generation of classroom teachers WGU is teaching and training in all 50 states.
Dr. Brandy Hempen recently received the prestigious Presidential Award for Excellence in Mathematics and Science teaching, the nation's highest honor for Science, Technology, Engineering, Math, and Computer Science (STEM). Now a faculty member, she is helping other future teachers prepare to be the next wave of change makers. She also leads workshops throughout the year focused on educational technology and student engagement for educators and classroom teachers, sharing her expert advice and tips for making a classroom an engaging, dynamic, energetic learning experience.
We took a little time to catch up with Brandy and get her view on teaching as a career and how she approaches her work as a progressive educator. Enjoy the conversation.
For many educators, there was an influential teacher in their life who helped motivate them to choose a teaching pathway. What motivated you to decide to pursue a career as an educator?
I grew up with just my dad. My 5th grade teacher played a huge role in my life. She couldn't have kids, so she kind of took me under her wing. It helped me and my dad a lot. I distinctly remember her saying to me one day, "You should be a teacher." It was something I had not given any thought to at that time. My plans from early in life were to grow up and be a lawyer. I was talking with my dad as I was heading off to college years later, and he asked me what my backup plan was if went to college, earned my bachelor's degree in say, Political Science, went into law school and hated it. I remembered that moment in fifth grade and decided to get my bachelor's in education which could still be a foundation for law school entrance, but gave me more choices for career pathways.
As part of that bachelor's degree, I was doing my demonstration teaching in a second-grade classroom and I fell head over heels in love with this work! As a student teacher, I wasn't even getting paid, yet I couldn't wait to wake up and go to work each day. That sealed it for me. I've been an educator ever since, and I always will be. I'm from a small town with a very strong sense of community. I can look out my front door and tell you all the houses where my students lived, who their parents are, where the teachers who helped and influenced me live. I am so thankful I went with my heart in choosing this career.
In reading your bio I see you've taught quite a few topics. Your background is STEM, but you've also taught kindergarten through 8th grade, English language learners, and developed a broad spectrum of curriculum, as well as leading workshops for teachers. What's at the core of your passion academically speaking?
Student engagement. Absolutely, student engagement is what drove my interest in educational technology and learning. I wanted to know how to use research and tools to make learning successful and fun.
I wanted to become the kind of teacher who could excel, and help my students excel, no matter what environment you put me in.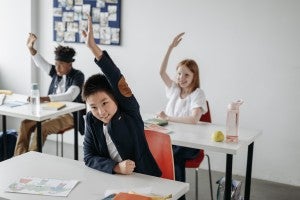 Every time there was an opportunity in my school to move into a new opening at a different level, I took it to diversify my skill set and expertise. It helps me relate now to the teachers I coach in workshops as well as in my role as a faculty member. I think my success at doing that is tied to the instructional strategies I use, the research and evidence-based tools and practices that I employ, and when I was in the classroom, just being able to be silly with my kids. I even got 8th graders (who think they're too cool) to be silly and have fun learning with me.
Let's talk educational technology as it relates to student engagement. What's a piece of advice you give to the teachers you're training?
I always tell my teachers that they are irreplaceable. There's no piece of technology that can replace them as a person and the value they bring to their students. They are the most important aspect of learning for their students, not the technology. That said, there are technologies and apps they can use to enhance their students' learning. I lead a lot of ed tech workshops for teachers, and my biggest suggestion is always keep things real – make sure what you're teaching has application in the real world in a manner students can easily grasp and relate to. I bring examples of prior student work (with permissions) to show my current students and workshop participants so they can understand what this approach looks like and feels like in practice. This comes into play most when I'm stressing the importance of differentiated instruction which I am a serious advocate for. In one example, I show teachers how to use four different videos at different skill levels on the same topics, and then bring the class together for conversation after each student has learned at their appropriate level. I enjoy demonstrating how this doesn't have to cost money – there are so many free resources teachers can use in their instructional strategies. I advise them to steer away from just standing up and lecturing or reading off a slide deck for hours in an otherwise silent classroom. I show them how to engage their students in the learning process.
Hopefully the value of engagement is clear, but just in case, do you want to remind folks why student engagement is so important?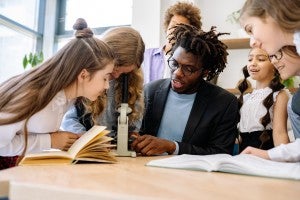 It's at the core of everything we're trying to do for the students. If we can get the kids engaged and excited about what they're learning - no matter their academical level - they will achieve better outcomes.
When they are engaged, they care about the learning, about their teacher and about each other. So much good comes from that. 
For example, as one of my 5th grade math classes was wrapping up at the year's end, I asked my students what goals they set earlier in the year they believed they had successfully met and would take forward with them. The conversation was fascinating. There were the obvious answers about academics and math skills but because of the way our class engaged, most of the conversation they offered centered on life-changing goals like "I want to speak up and make eye contact when I'm talking to people now," and "I want to ask more questions," or "I want to become a leader and make good decisions." That's what you want as a teacher – to see your students grow academically, and personally. One without the other isn't enough.
We know ed tech was used in emergency remote instruction during COVID – sometimes with great intentions and great outcomes, but sometimes with poor instructional strategies and less than optimal outcomes. What are some of the ongoing challenges ed tech can successfully help teachers with today?
Absences have been and continue to be a huge challenge. Properly done, ed tech can help us as teachers build and maintain connections with students who are at home. It's been hard on teachers with students in and out for months. I'm a firm believer in never giving students activities at home that they can't do independently because they might not have the parents there to help, or they may not have support or guidance. They may be taking care of younger siblings; we just don't know. I encourage teachers to use technology to guide their students to where they want them to be. You teachers can record videos of yourself for your students so that even the kids who are at home feel like they're still with you and responding to exploratory questions, not just listening to a lecture. Socially and emotionally, creating that sense of connection with the class and the instructor is huge for the student, and it pays off in so many positive ways.
You had several teachers who influenced you. What's a story of one of your students where you had evidence your work was influencing them in a surprising or interesting way?
Fortunately, there have been several. The first one that comes immediately to mind is about one of my 3rd grade boys who was very troubled. Literally not a day went by when he wasn't getting into trouble at recess, or in class for putting his hands on people, or refusing to sit down and do his work. It was a constant challenge. About the same time, I had discovered the work of Carol Dweck and her research on developing and supporting a growth mindset. So, whenever I was working with him, I made a point of making sure that I was using the terminology and approach Dweck advocates for. This student's mom was on our school board and was very aware of the behavioral challenges with her son. 
Well, one day I was doing an activity with the class I call, "I moustache you a question" – and I made moustaches out of what I thought were stickers for each kid that they received and could put on as they spoke the answers to questions. Long story short, they weren't stickers, they were paper and so we got creative and temporarily affixed them with glue sticks.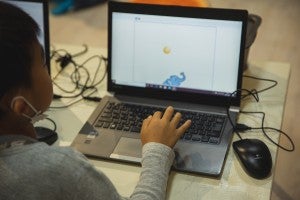 That night, the school board mom of the troubled young man called me at home, and I was pretty sure I was going to be in trouble over the glue sticks even though they washed right off. Instead, she told me a story of how her son was at the kitchen table trying to study, but visibly struggling. She said to me, "I asked him if I could help. He just held up his hand and said, 'No mom. I have to persevere.' How did my son learn what the word persevere means, and how on Earth did you make him want to do that?" So, I wasn't in trouble after all, and I told her what I had learned about establishing a growth mindset. By the way, it ends up he really did persevere. He's a freshman in high school now and doing great things with his life and his academics. That's such a good feeling, and I have Carol Dweck to thank for it.  
What's a challenge you see teachers and future teachers wrestling with in the 21st century classroom?
I've been a very progressive style teacher from day one. I feel like teachers who have been working in classrooms the last 10 to 20 years have had the most challenging time simply because of the transition to a much more hands-on model, where we are all collaborating in the 21st century type of teaching which is not what appears at the onset to be a quiet set of rows of desks and silent students heads down and hands up. I want them to know their classrooms don't have to be quiet to be successful. Kids like to move around, and can be collaborating and responding to each other respectfully, but it's a tough transition and learning curve for teachers, though it's 100 percent worth the effort. Once you start teaching using those 21st century techniques you'll never go back. You'll see your kids engaged and you're all having fun learning. The great news is the parents will see the difference too and support you.
Now let's pivot and talk a little about your students at WGU. You're still teaching as a course instructor in Educational Technology and Learning, but to adult students. Do you still feel like you're making a difference?
Oh yes. Our students are adults from all walks of life, and many don't have deep ed tech skills. I see them exhibit some fear at the onset of the course, especially when they read the syllabus and see an early project is to build a website! I recently had a student from Hawaii, about 45-years-old, coming to WGU to get her degree in education. She was very passionate about teaching and learning, but she struggled immensely with the technology side of things at first. In the first two weeks of the course, I think I met with her six times in 1:1 calls. I'd just coach her and say "You can do this. Sure it' looks scary, but take the first step, you'll see." At the end of the class, she called to tell me how proud she was of what she accomplished, and said, "Hey we built a website!" and I told her, "No you built the website. I just cheered you on." She's going to be a great teacher. 
At WGU Teachers College, we say that to train and place Next Gen teachers and leaders we have to expose our students to Next Gen teaching and leading. Are you seeing that, and if yes, what's one example you're excited about?
Yes, I see this here in so many ways. WGU is at the top of my list as the most progressive university I've ever seen. One quick example – we don't rely on one specific textbook for our students that they must buy and go through step-by-step in a linear fashion. We open up a world of carefully curated knowledge with open educational resources. I think it benefits teacher-leaders to learn to pick and pull, choosing from various resources on a topic, using a video here, a news article there, a book chapter and a website or repository of research. We're still working off a carefully constructed syllabus and curriculum plan, but it shows the student how to expand more opportunities for bringing in a variety of stellar learning resources. That also helps engagement.
What's one thing you wish every person in America understood about the teachers working in their community's schools?
I wish that everyone understood how hard teachers are working, and how much they care. I wish every single person in the U.S. understood that. I was the most passionate classroom teacher in the world, and it was still hard work. I see my best friends who are teaching in the school district where I live replying to parent emails after hours. I see them getting and replying to text messages on their personal phones at all hours of the day. For the most part, the parents reaching out are respectful here, thank goodness, and the teachers appreciate the input and dialogue. I just wish that every person understood the sense of passion our teachers have for their kids. They don't get paid a ton of money. They're doing it because it's in their heart to help. So, my wish is that parents would always ask questions about what's going on with your kids and your school, but please do so respectfully. Your children's teachers are working very hard for your family.
You've got a lot going on including raising a toddler and a five-month-old, a full-time job, and your work as a workshop organizer and leader. What's your big audacious goal for 2022?
In addition to the priority of taking care of my children, I just finished writing a book. I was racing the clock to finish the writing phase before my son was born, and my goal for 2022 is to get it published. It's for teachers and it's all about student engagement, of course, my favorite topic. I teach them how to use educational technology for the best outcomes. I am in deep conversations with some successful authors and publishers and want to see it published this year. The book takes a thoughtful and fun approach. I have QR codes throughout it that link to videos and examples from some of my classroom work and assignments, with all the appropriate parent permissions of course. It's an interactive book for sure. I really think it would make a positive difference for teachers across the education landscape right now who are struggling with this topic.
Note from The Learning Community editor: Since our interview, Brandy's book has been published! Check out the details below and get your copy today. Congratulations, Brandy!
---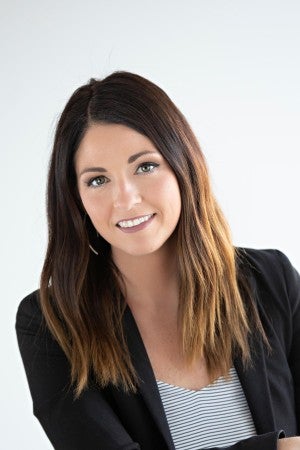 About Dr. Brandy Hempen
Dr. Brandy Hempen is a course instructor of educational technology and leadership at the Teachers College at Western Governors University. Prior to teaching at the collegiate level, throughout her 10 years in education, Dr. Hempen served as a third-grade self-contained teacher, fifth grade mathematics and English language arts (ELA) teacher, seventh and eighth grade ELA teacher, and kindergarten through eighth grade curriculum coordinator and instructional coach at Germantown Elementary School District 60 in southern Illinois. Dr. Hempen's passion for education extends beyond the four classroom walls as she leads conferences big and small on a variety of educational topics specializing in 21st century teaching of mathematics. 
In 2018, Dr. Hempen was one of 27 worldwide selected to serve as an Emerging Leader in Education for the Association for Supervision and Curriculum Development organization. Additionally, in her early years of teaching, she was selected as an Early Career Educator by the Illinois State Board of Education. Dr. Hempen has a bachelor's degree in elementary education, a master's degree in curriculum and instruction with a concentration in differentiated instruction, and a doctorate degree in educational technology and leadership. In 2020, while teaching fifth grade mathematics at Germantown Elementary School District 60, she was named an Illinois State Finalist for the PAEMST award in mathematics. (This bio is used with permission from her profile page on the PAEMST site)