As a ground-breaking, accredited, nonprofit university with national reach, Western Governors University has partnerships with school districts and community colleges throughout the nation. WGU Teachers College partners with more than 2,600 schools and districts to provide demonstration teaching positions to WGU students, as well as to send school districts' teachers, leaders, and paraprofessionals to WGU Teachers College for degrees and credentials. The college has more than 33,000 students, and offers 30+ undergraduate and graduate degrees for educators. In the last 20 years, it has granted more than 63,000 degrees, and has alumni working as licensed teachers in classrooms in every state of the U.S.
One Teachers College school district partnership is with the San Diego Unified School District. Designed to grow and diversify the teacher and leader workforce in San Diego, the partnership with WGU Teachers College includes a 'grow your own' teacher pathway to recruit future educators from the community. To help remove barriers to those wanting to become teachers, the school district and the Teacher College are offering the TEACH-LEAD San Diego Teacher Pathway Scholarship. The program provides scholarship funding to new and returning WGU students who are currently employed as classified employees in the San Diego Unified School District.
"Paraeducators are excellent candidates for future teachers as they have already demonstrated the desire and skills to help children learn and grow," said San Diego Unified School District's Chief Human Resource Officer, Acacia Thede.
As mentioned in the press release announcing the scholarship here, "According to Ed-Data, in 2020-2021, 77.5 percent of San Diego Unified School Distrcit students are ethnically diverse, with only 36 percent of teachers falling into that same category. Programs like TEACH-LEAD San Diego help fill that gap by increasing representation among teachers and leaders." This district services more than 100,000 students that represent 15 ethnic groups.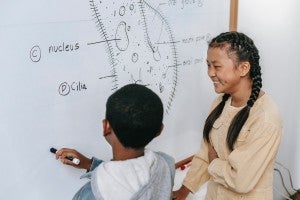 WGU Teachers College is a leader in the U.S. in successfully training and graduating students of color, helping to create a larger workforce of diverse teachers who better represent the demographics of the nation's classrooms.
Paraprofessionals and other classified employees in the San Diego Unified School District are enrolling in the Initial Licensure Programs (bachelor's degrees) and currently licensed teachers are enrolling in the graduate programs. Because of WGU's online, flexible competency-based model, students in these programs can continue to learn while they earn, and can access their courses from anywhere they can access the Internet, making it a great fit for working educators and paraeducators. And for students with extensive knowledge and expertise, the competency-based model allows them to accelerate time to completion by demonstrating mastery via passing rigorous course assessments as soon as they are ready.
Another benefit to the partnership is the ability to place Teachers College students into the district's classrooms for the students' final demonstration teaching clinical experience, commonly referred to as 'student teaching'. This provides additional skilled staffing for existing teachers and helps create a network of future teacher-leaders in the community while also helping move existing paraeducators into certified teaching roles.
Additionally, members of the district may be participating in professional learning opportunities from WGU Teachers College, from Character Education to Next-Gen Teaching and Leading. WGU's grant-funded Character Education Professional Development program aims to be a catalyst to both individual and societal flourishing by developing and delivering online competency-based professional learning programs in character education. These programs prepare and support K–12 educational leaders and teachers in creating school cultures that cultivate, value, and celebrate teachers and students of character.
"All of us at WGU Teachers College are pleased and proud to partner with the San Diego Unified School District to help support their goal of growing a diverse teacher pipeline to serve their diverse 100,000 students," said Dr. Mark D. Milliron, SVP of Western Governors University and Executive Dean of the Teachers College. "By doing their demonstration teaching in San Diego Schools, our rising teachers are in a great position to join the fold at this district after graduation. We are also glad to be offering scholarships to their non-teaching staff so they can also realize the dream of becoming educators and having positive impact on their community."