The path to becoming an educator is not always a direct route as the result of following a childhood dream. WGU alumna Maureen Stover was recently recognized as one of the top teachers in the country. But if you ask her about her childhood, adolescent, or even early adult dreams, being an educator was just not on the radar. So how did she not only become a teacher but also get recognized as the 2020 Burroughs Welcome Fund North Carolina Teacher of Year and go on to be one of only four finalists for the U.S. 2021 Teacher of the Year? 
"I am a 1997 United States Air Force Academy graduate, and when I graduated, I served as an active-duty intelligence officer," says Stover. "Later, I was getting to the point in my career where I was beginning to transition off active duty and looking at a reserve component position, but it also meant that I was going to branch out and do something in the civilian world."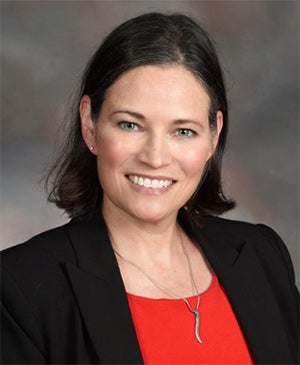 Maureen Stover
Volunteer Work Leads to Passion for Teaching
During this time, she had the opportunity to volunteer in her son's kindergarten classroom. "I would work with the students in his classroom, and I found that I had a real knack for working with the kids who didn't quite get it in whole group instruction - kids who needed a little bit of extra attention or a little bit of extra practice. I really enjoyed my time working in the classroom." 
As she transitioned out of the Air Force, she found herself seriously considering the teaching profession. However, concerns arose with how to gain the education experience and credentials she needed on top of her previous undergrad science degree while balancing her role as a mother of three young children and wife to an active-duty U.S. Air Force Pilot. The nearest on-ground university offering a Master of Arts in Teaching was two hours from her home, which brought forth the constant realization that transfers and geographic moves were inevitable. 
Air Force Base Education Center Recommended She Look at WGU
She went to the education office at the base where her family was stationed, and the clerk there recommended Western Governors University.  The fact she could do it online within a schedule that fit her sounded perfect. The clerk explained she would have a mentor who would help her through the whole process, and when her coursework was complete, WGU would help place her in demonstration teaching in a local school.  "The other thing that was awesome for me about WGU was that it was competency-based, so that meant that on a week where we had 10 soccer games and 33 parties in my kids' classrooms, and I didn't have time to do 20 hours of schoolwork that week, I could step back a little and spend a little bit more time with my family. Then the following week, when we didn't have that going on, I had a lot more time to dedicate. Because of the way that WGU was set up, it was perfect for me." 

"I've truly found my calling. This is where I'm meant to be. Becoming a K-12 public educator is incredible, and I feel honored and blessed to have an opportunity to work with young kids and to be part of their success stories."

That knack for helping children learn has paid off in her classroom. As noted in this edition of EdWeek celebrating the top four 2021 Teacher of the Year finalists, "Each year, she said less than half of her students are projected to score a proficient score on the biology end-of-course exam—but for the last three years, more than 90 percent have demonstrated proficiency." 
The Important Roles Educators Play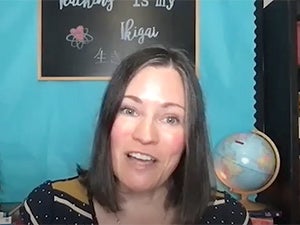 "Part of my job as an educator is to impart knowledge, but that's just part of my job. I'm part caregiver, I'm part mom, I'm part cheerleader, I'm part whatever my kids need me to be that day, and that's because, in addition to teaching our kids academically, we are also part of the development of their social-emotional learning as they progress through our preK-12 public schools," she said. 
"Especially for me as a high school teacher—there's a lot of social-emotional learning that's happening in the classrooms. Teaching them to have conversations where maybe they disagree with someone, but they're able to walk away from the table not necessarily agreeing with the person but able to respect that person's opinion, and to be able to understand where that person is coming from is big. Or maybe they're dealing with a relationship issue or an emotional issue where they just need some extra support. All of those are also roles that teachers fill." According to this article in K-12 Dive, the need for SEL support during the pandemic is more significant than ever before as many students report not having an adult they can talk with about mental health and other social-emotional concerns.  

The Other Front-Line Workers

Just as we celebrate the importance of doctors and nurses during the pandemic, there is cause to celebrate teachers who also work the front lines. "I think it's really important to acknowledge the incredible efforts that teachers have made throughout the pandemic in order to ensure they're still able to be there for their students both academically, and socially and emotionally. In North Carolina, we found out on a Saturday that we were transitioning to remote instruction on Monday," she said. "Literally overnight, teachers rewrote curriculum. Half of us didn't know how to use online platforms, but we figured it out." She notes that there were teacher groups popping up all over Facebook and ad hoc groups meetings to share ideas and solutions. "We really pulled together as a profession. There's nothing we could do about a pandemic; we just had to move forward to figure out a way through. It's incredible to be part of a profession that was so committed to ensuring that we kept some piece of normalcy for kids."

"I also think it's really important that we highlight the impact that teachers have on kids because we can throw numbers and data at people all day long," she said. "We can tell them the percent of teachers that we're missing in classrooms this year, but when you have the opportunity to share those stories where you have touched a child's heart and when a child touches your heart, that makes a difference. I'm probably up to 20,000-30,000 kids that I've taught over the years. Every single one of them has etched on my heart, and every single one of them holds a very special place in my life. So, I think when you can tell that story, and you can talk about how incredible it is to be a teacher, and how incredible it is to have the opportunity to work with kids and to be part of their success story as they go through public education, I think that's where you capture people who may be interested in teaching. You know, ultimately, that's what captured me."
"I've truly found my calling. This is where I'm meant to be. Becoming a K-12 public educator is incredible, and I feel honored and blessed to have an opportunity to work with young kids and to be part of their success stories."
– Maureen Stover
Understanding Differentiated Instruction

As she began teaching during the pandemic, she was able to draw upon her own experiences learning online and enjoying the advantages of differentiated instruction. Stover said, "I think that was hugely impactful for me as we began to move into the pandemic. I had that constant support of my professors and my mentors as I went through the WGU program, never feeling disconnected." As the pandemic forced her classroom into remote learning, she was ready. She understood that for a lot of students, it was their first experience with remote learning.  "Because I had been a remote learning student, I understood how important it was to have that constant connection, so I was intentionally embedding social-emotional learning activities and opportunities for my kids." She made online office hours where her students could call in.  "I'd send them little things in the mail just to stay connected because I knew how important that connection would be when they were pulled out of the familiarity of being in a classroom.  My experience at WGU has truly set me up for success because as a student, I experienced how that works and how that looks, and that means that I was better able to effectively implement that as a teacher."

Advocacy and Policy Work to Address Inequities

She's ready for whatever comes next and dedicates time to advocacy and policy work, especially regarding equity issues, given her now-prominent position as a teacher-leader. "As educators, we've known for years inequities exist, but now because of the pandemic, a lot of those inequities have risen to the surface where the public also sees them, as do policymakers. As teachers, we've been saying we need help with this, and now that has become real for our policymakers and for the public. It's going to take a lot of work, and we're not going to change it or fix it overnight. It's going to take committed efforts by teachers, policymakers, parents, administrators, and stakeholders—an entire team—but now that we have identified that these inequities are real, we are obligated to address them for our kids."

"It's important to acknowledge that part of the reason why I'm such a successful teacher is because I had such successful preparation through WGU. I'm a huge advocate for the competency-based learning model, and I would encourage anyone who's considering going into education to look at WGU—it is fantastic, it's economical, you have incredible support, and you are very well prepared to walk into a classroom when you complete the program."

Stover's advice to anyone considering the teaching profession is to explore it and see if they have the same 'aha' moment she did where she feels she truly found her calling. She recommends volunteering in local schools or becoming a substitute or teacher assistant. 

WGU offers many pathways to becoming a licensed teacher including, learn as you earn programs and paraprofessional to teacher options. Learn more here to start making a positive difference in the lives of children today. 

This article is pulled from an in-depth interview Maureen Stover did with Dr. Mark Milliron, SVP and Executive Dean of the WGU Teachers College. View their inspiring 36-minute conversation and learn more about STEM education, differentiated instruction, SEL, and advocacy/policy work in education.