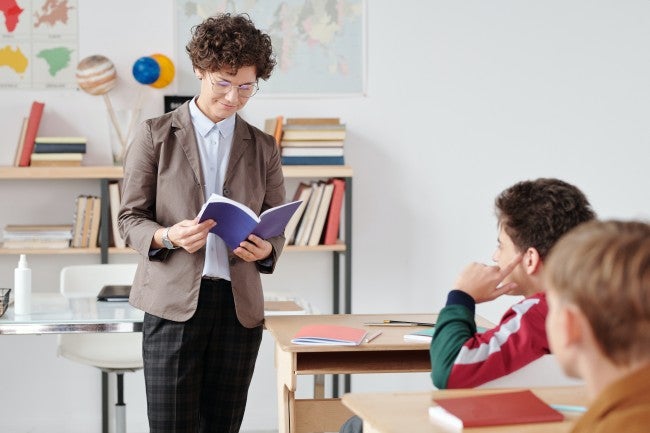 It takes a special individual to be a special education teacher. Special education is more than a job—it's an opportunity to make a difference in a child's life. It requires an enormous amount of mental and physical energy because your students will have a variety of disabilities. Much goes into being a special education teacher, such as paperwork and individual progress monitoring, but the reward is tenfold.. But don't be disheartened. All of these challenges dim in comparison to the ultimate reward of this invaluable teaching role: having a lifelong impact on students who have mental or physical disabilities. 
What is special education?
Created for students of all ages with emotional, physical, and learning disabilities, special education programs were signed into law in 1975 after Congress passed the Education for All Handicapped Children Act, now known as the Individuals with Disabilities Education Act. In order to promote and manage the growth of their students (from infants to adults), special education teachers modify the general education curriculum to make sure each student's individual needs are met. They help students develop problem-solving, motor, and social skills they'll need to complete their education and live independently. Beyond academic advancement, special ed teachers may also work with students on personal and life skills. 
What does a special education teacher do?
Similar to other teachers, special ed teachers create lesson plans, assign activities, and grade assignments and tests. They also keep track of student progress and meet with parents to discuss their child's abilities and challenges. The individualized instruction and curriculum is what distinguishes special education from standard education and is guided by the following factors: 
Enriching students' learning and providing a stable, individualized education program.

Helping students navigate mental challenges from a young age so that they maneuver through life as smoothly as possible.  

Preventing adjustment problems that could potentially last a lifetime. 

Teaching students with physical or mental disabilities how to thrive as adults. 
Special education teachers are responsible for instructing a broad range of students (infants to adults) with a broad range of disabilities and work at the elementary, middle, or secondary school level at public or private schools. Some special ed instructors have their own classrooms to teach groups of students with special needs, while others work with individuals or small groups of students with disabilities in a general classroom alongside other students.
Special ed instructors often work with general education teachers in identifying and assessing students who may have disabilities or special needs. The job of a special ed teacher in a general education classroom is to adjust the general lessons to fit the needs of each child. These adaptations are included in a student's Individualized Education Program (IEP). IEPs are crucial because what may be an effective teaching approach for one student may not work for another. IEPs involve working with parents and other instructors to know what a special education student needs to learn, how to teach them, and the best process forward to meet their educational needs. Accommodations can range from using flashcards to teach math skills to guiding a student in life skills such as how to answer questions or follow instructions.
Qualities of a special ed teacher.
Successful special ed teachers are fearless. Not only do they understand the physical and emotional challenges the role promises to present, they welcome them. The best special educators are not intimidated by the intense workload and are extremely motivated by their determination to help students progress and succeed. 
The ideal qualities of a special ed teacher also include: 
Being calm, patient, and accepting. Because you'll be working with students from a wide variety of backgrounds, and students will have various needs that require special attention and understanding. 
Possessing strong organizational and computer skills. This is crucial for keeping detailed records of each student's progress. 
Having solid presentation, decision-making, and communication skills. All are critical for a special education career because special ed teachers need to interact frequently with students, parents, and other educators. They also need to be flexible in their communication—able to nimbly go back and forth between working in one-on-one and group settings.
Being familiar with assistive technology devices. Not only will your students benefit from your knowledge of phonetic software, electronic worksheets, and variable speed recorders, your career will, too, because this technical acumen stands out to employers. 
Being compassionate and enthusiastic. Successful special ed teachers are equal-parts eager, energetic, and encouraging. They are also naturally creative and able to think on their feet.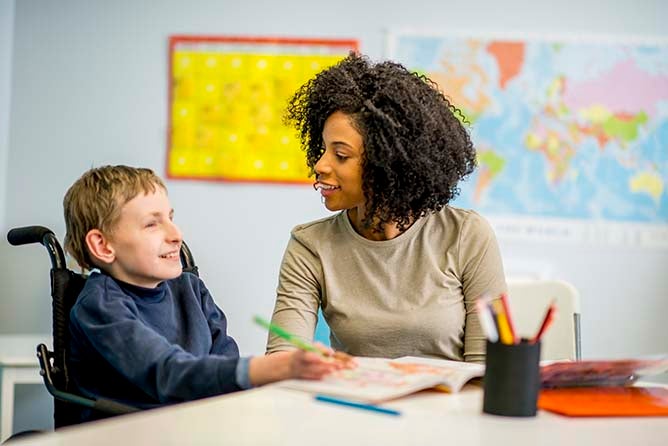 How to become a special ed teacher.
The traditional path towards a career in teaching special education includes the following steps: 
Earn a state-approved bachelor's degree or master's degree in special education.

Complete a student teaching internship in a special education classroom. (Teachers with prior experience in teaching children with disabilities will stand out from others.)

Take your state's required tests for special education teachers.

Apply for your teaching license.

Start applying for special ed teaching positions.

Consider earning an additional license in special education if you are already a teacher. 
Most special education teachers earn a degree in education or special education. Many universities and colleges offer special education teaching degrees at the bachelor's and master's levels. WGU offers a dual elementary education and special education bachelor's degree program, a special education—mild to moderate bachelor's degree program, and a master's degree program—terrific news if you already hold a bachelor's degree and are looking to make a career shift or gain additional teaching credentials.
Credential requirements for special ed teachers vary between public and private schools. Most jobs among both types of institutions require a focused special education degree whether at the bachelor's or master's level. Private schools require a bachelor's degree but don't always require certification. To qualify for licensure to teach in public schools, the bachelor's or master's degree usually needs to include a teacher training program approved by the state in which it is located. 
Traditional and online bachelor's degree programs or master's degree programs in special education require coursework in the following topics: 
Assessment

Methods

Planning and curriculum

Assistive technology

Foundations of education

Special education law
In addition to learning practical procedures for teaching math, science, and reading to students with special needs, the curriculum for most special education programs includes the study of disabilities such as Down syndrome, autism, visual impairment, and more. Curriculum development courses and supervised classroom teaching are also part of special education teacher training. 
Along with at least a bachelor's degree, all certified special education teachers in the United States must hold a state-issued license or certificate specific to teaching special education students. Earning a bachelor's degree actually prepares prospective special ed teachers for licensure. Each state has its own specific licensing requirements, so be sure to take note of this as you search for jobs. To obtain licensure in teaching special ed, most states require student teaching hours in a special needs classroom. Exam requirements that cover general content and special education specifically also vary by state. Once teachers are certified, they can then start looking for special education jobs in their state. 
Special education job descriptions at a glance.
Special education teachers typically work in elementary or high schools. Let's take a look at some of the differences in responsibilities and expectations for each role. Note that middle and junior high teachers' responsibilities tend to span both categories. 
Elementary school special education teacher.
Work with students who have physical disabilities, cognitive impairments, developmental delays, or who have documented behavioral issues that affect learning in the mainstream classroom.

Lead the formation or revision of an Individual Education Plan (IEP) each year as a collaborative working document for parents, educators, administrators, and support staff. 

Advocate for people with disabilities through education legislation and other measures. 

Understand theories of child and adolescent development. 

Serve as subject matter expert for classroom teachers and support staff for teaching and learning strategies as well as for relevant medical conditions and information.

Advocate on behalf of students' needs to classroom teachers and administration.

Provide students without disabilities with strategies for perspective-taking and inclusion in classroom and extracurricular activities.
High school special education teacher.
Help students learn self-advocacy as they approach the end of high school.

Function as a resource for school-to-work transitioning.

Advocate for and recommend students for extensive cooperative education placements both in and outside of the school.

Suggest beneficial reductions in support for the student to foster self-reliance, reduction in vulnerability, and independence.

Model and role-play self-advocacy skills for students in the classroom and in life-skills situations.

Understand the medical, physical, behavioural, emotional and social implications of a particular diagnosis and how this may impact learning and life situations.

Create a transition plan from year to year, and from high school to post-secondary education or job training. 
Salaries and job outlook for special education teachers.
Like other teaching jobs, the salary for special ed teachers depends mostly on education and experience. The median annual salary for an experienced special education teacher with at least a bachelor's degree is $61,030, as reported by the U.S. Bureau of Labor Statistics. Entry-level salaries range from $40K to $45K. Special ed teachers who work in secondary and middle schools tend to earn more, plus they tend to earn more than general education teachers because of their degree of specialty training. The BLS projects 3% growth for special education teachers in general over the next 10 years, a rate that is "about as fast" as the average growth rate for other occupations. At 8%, the growth projection for preschool special education teachers is even greater, signaling an increase in demand for this demographic. Like other educators, special ed teachers typically get great health and retirement benefits. 
Since it's a "small occupation," says the BLS, the rapid growth will result in "only about 1,900 new jobs" over 10 years. However, the general trend across the U.S. is that enrollment of students with special needs is rising, and well-qualified special education teachers are in short supply. This growth is driven by increased demand for special education services as well as the need to replace teachers leaving their jobs. The BLS attributes the demand to "disabilities being identified earlier" and children with these disabilities increasingly being enrolled into special ed programs at public elementary, middle, and high schools, as well as at preschools. This breadth of learning institutions where special education instructors are needed presents more options for prospective teachers seeking employment. In other promising news, special ed programs are highly essential and unique, and are treated as such by the federal government. Every state is required by federal laws to maintain the same level of financial support for special education every year. Special education teachers looking for opportunities can take this to heart because this nationwide, equal-opportunity funding approach "reduces the threat of employment layoffs when they are due to state or federal budget constraints," according to the BLS. 
Teaching students with special needs can be incredibly challenging but extremely rewarding when you've helped them progress and succeed. Whether you're just starting out or wanting to advance your existing career, WGU's accredited teaching degree programs with a focus on special education will prepare you to make an impact on students' lives. Find out more about this deeply meaningful career and WGU's teaching degree programs today!