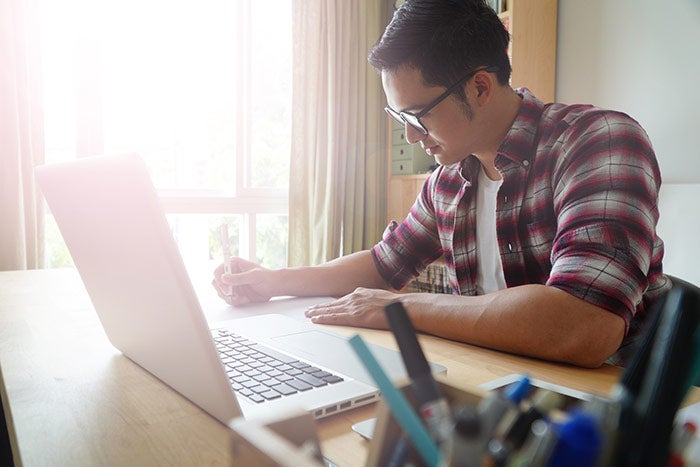 While studying is an essential part of understanding and recalling information, focusing can be difficult. Distractions, other obligations, and short attention spans all contribute to our inability to study effectively.
But there are some easy ways to help get the most mileage out of your study time and better recall the information you need when it counts. Here are six study hacks to help improve your focus and ace your WGU Tennessee courses.
1. Get rid of distractions.
Social media notifications, emails, and text messages can all break your concentration and make studying difficult. Turn off the screens you don't need, and focus only on the one you're using to work. If you're studying on the go, try installing apps like Offtime, Moment, or Cold Turkey that track the amount of time you spend on social media and allow you to set limits or block access to distracting apps.
2. Eliminate distracting noise.
While coffee shops and office break rooms are sometimes the most convenient places for a quick study break, loud noises and conversations can cause a loss of focus. That said, complete silence can also throw you off your study game. Grab a good pair of noise-canceling headphones and find a good study playlist to help you focus. 
3. Chew gum.
Studies have found that chewing a different or unique flavor of gum while studying and then chewing it again during tests or quizzes can jog your memory and help you better recall information. If you're not a gum-chewer, try spraying an unfamiliar scent while studying and before taking the exam for the same result.
4. Take notes by hand, in color.
While typing notes during lectures and coursework may be easier, writing by hand will help you better remember the information. Take it a step further and color-code your notes using colored pens or pencils. This will help you visualize the information and make it easier to recall.
5. Make a dedicated study space.
While we fully support working from front porches, coffee shops, or other comfy locations, when it comes time to study, carve out a dedicated space. Creating a space that you consistently use to study can help signal to your brain that it's time to focus.
6. Post reminders everywhere.
Use sticky notes to post facts, questions, and things to remember around your house – on the bathroom mirror, coffee pot, and remote controls. When it comes time to use those items, review the information posted on the sticky note to create smaller study moments throughout the day. The process of writing out the notes will also help dedicate them to memory.
Interested in more study tips? Check out this article for more ways to be productive while studying.