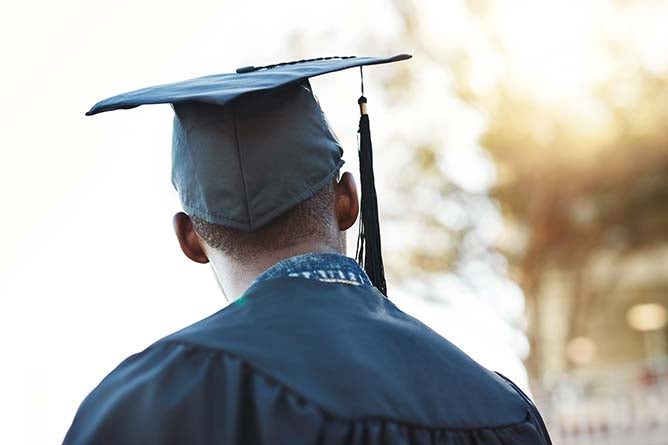 For many working adults in Tennessee, going back to a traditional brick-and-mortar school isn't an option. Whether it's due to time constraints because of family and work responsibilities or lack of educational institutions where they live, earning a degree can be a daunting task. 
And then there's the financial burden, which can be a deterrent for many considering going back to school. 
Nationwide, roughly 30% of adults have student debt and borrowers collectively owe over $1.7 trillion in student loans. Here in Tennessee, 62% of respondents with some college or less cited cost as the main obstacle for completing a degree in a 2019 survey conducted by WGU Tennessee.
That was the obstacle facing Jackson, Tenn., teacher Emily Stutts. Emily wanted to take the next step toward becoming an administrator within the Jackson-Madison County School District, but knew she would have to pay her own way through school. 
On a whim, she applied for WGU Tennessee's annual Tenn-K Scholarship, which awards up to 10 Tennesseans $10,000 toward earning a degree, in hopes of beginning her education master's program. In the spring of 2019, Emily was surprised with a $10,000 check she could use to finish her degree and reach her career goals.
Easing the financial burden of earning a degree can be monumental for adults going back to school, and our annual Tenn-K Scholarship covers nearly 70% of a recipient's tuition costs for our coursework. Since launching in 2013, WGU Tennessee has awarded more than $3 million in scholarships to Tennesseans.
WGU Tennessee was built on a mission — providing working Tennesseans with better access to quality, affordable education options that meet them where they are. WGU Tennessee is a 100% online, accredited university for working adults. WGU Tennessee's programs are all competency-based, and allow students to apply previous knowledge and experience to pass over courses where they demonstrate knowledge of key industry competencies. 
Nationwide, we are facing challenges on how to make higher education more accessible to changing student demographics, but this is also a time of great innovation in higher education. WGU Tennessee is at the forefront of this innovation as it removes traditional barriers to college access and takes a holistic approach that allows students to work at their own pace and on their own time. By helping adults across Tennessee take the next step and realize their career dreams, we are helping all of Tennessee take a step forward along with them.