When WGU Tennessee launched almost five years ago, we had fewer than 700 active students. It's hard to believe that in less than five years we've surpassed 4,000 students — a nearly 400 percent increase in enrollment since our launch in July 2013. Surpassing 4,000 full-time students makes WGU Tennessee the fifth-largest private, nonprofit college in Tennessee.
We have a lot to be proud of, including a few other big milestones:
Exceeding 2,750 degrees conferred to Tennesseans across the state
Having active students in 92 of 95 counties
Awarding more than $1.5 million in scholarships to Tennesseans
Offering tuition discounts and special scholarship eligibility to employees, members and graduates of more than 50 organizations in Tennessee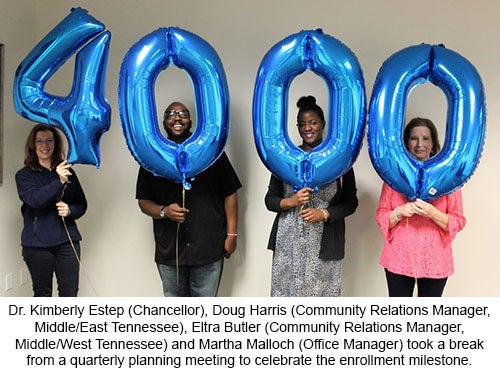 This is a major accomplishment for everyone involved with WGU Tennessee. We've stayed true to our student-focused principles by providing a flexible and affordable option to working adults who want to return to school. Our inspiration comes from our students and we are continually amazed at the dedication they show when pursuing their education and career goals.
We look forward to celebrating with our 4,000+ students and 2,600+ alumni at our upcoming five-year anniversary parties.