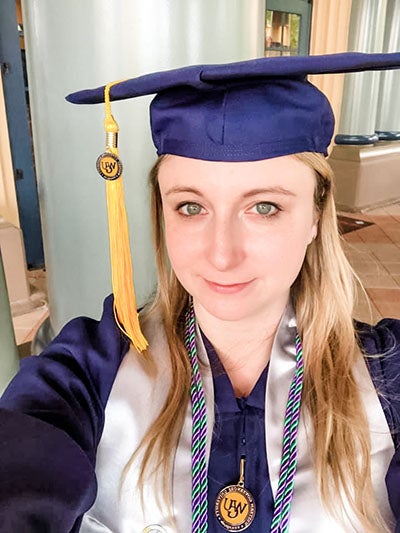 When Caitlin Grossman sustained an injury that would change the course of her ballet career, learning became a positive outlet and beacon of hope. Having taught ballet for eight years, Caitlin's instinct for teaching was innate.
Earning a Bachelor's Degree in Special Education was a career change that complemented her background and pedagogy. WGU Texas provided a flexible online degree program and path forward while Caitlin continued the physical and emotional healing process. In this interview, Caitlin credits WGU for "classes that are so well-selected for each major, and each major leads to a definite career."
1. Give a brief description of your background. 
Prior to earning my degree at WGU, I owned and operated a successful ballet school for eight years. In February of 2017, I sustained a career-ending injury that changed my life forever. I tore my ACL and developed a rare complication after surgery. For two years, I needed crutches to walk. I made the heart-wrenching decision to close my ballet school. Transitioning to become an educator in a more traditional capacity made a lot of sense since I already had a strong foundation in pedagogy, classroom management, and communication with stakeholders.
I am married and have an eight-month-old baby boy, who was conceived after three years of fertility treatments. Because it was so hard to conceive, I wanted to stay home for his first year.
2. How did you find WGU Texas; why did you choose our university?
I went down the Internet rabbit hole, aka Reddit. When I decided to enroll, I was still using crutches, couldn't walk, and attending a traditional brick-and-mortar school was out of the question. 
Since it was a career change, I also didn't want to spend the four years it could take to get a degree at a traditional university. With WGU, I jumped in, and two degrees later, I never looked back! The greatest thing that stands out about WGU is that it doesn't make you waste any time. The classes are so well-selected for each major, and each major leads to a definite career!
3. Was your mentor important to your success? Did your mentor help you overcome any obstacles on the way to completing your degree? 
Absolutely. Clare Phillips was THE BEST Program Mentor I could have asked for. I knew I wanted to accelerate my degree program, but at the time, I had no clue what that would look like. Clare supported me from the very beginning. She never doubted my ability when I requested the next class. And once I got into the rhythm of things and decided to complete all my CUs in one term, she never doubted my ability, even though many others thought my goal was too lofty and impossible. 
4. Were there any barriers you've had to overcome (education, career)? If so, who were your supporters?
I don't think there are adequate words to express how devastating it is to wake up one day and feel like your entire life was taken away from you. After my injury and closing my ballet school, I initially couldn't imagine doing anything else. At the time, my health was a medical mystery. Doctors didn't know why my leg wasn't working and why I couldn't walk. Being able to throw myself into my degree was the best coping mechanism.
Likewise, when I was working on my master's, my husband and I struggled with infertility. That journey was equally heartbreaking, if not more so, as my injury. Once again, school became a healthy outlet. I had so much support through my WGU journey from my husband, parents, siblings, and the ballet school community!
5. Now that you've finished your degree, what are your career plans? 
I finished 2.5 years of teaching at Northside ISD, where I had some amazing experiences. I was selected as First Year Educator of the Year, which was exciting. I also had the honor of being selected to be on my school's inaugural Instructional Leadership Team as a first-year teacher. 
Next up, I would like to make more use of my Master's Degree in Curriculum and Instruction. I am extremely interested in developing content for Ed Tech platforms. However, my dream job is to be a Program Mentor for WGU. I think you can probably tell that WGU was absolutely life-changing for me, and I think I could make a positive impact on adult learners.
If you're interested in learning about WGU's online teaching degree programs, visit our website or contact an enrollment counselor today!