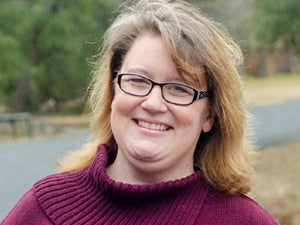 After quitting community college and becoming a stay-at-home mom, Kay Bursley wanted to get back to work—but quickly realized having a degree would give her a leg up in the workforce. After completing her bachelor's in business management, Kay decided to continue her education and pursue her master's degree. 
In this Q & A, Kay talks about how WGU Texas' flexibility has allowed her to pursue her education goals and create a meaningful career path. And with the help of WGU Academy, Kay completed four core classes and their PACA program before entering her degree program at WGU.
Tell us a little about your background—life, family, work, education.

I graduated from high school in 1991. I was in disarray with the war that year and decided to take a year off before attending college. After being in the workforce for some time, I began classes at a local community college. In three semesters, I changed my mind three times about what I wanted to be. I realized that I loved office work, for which I did not need a degree, so I eventually dropped out altogether. I worked in various organizations as a customer service representative for many years, quite happily.  I then transitioned to being a stay-at-home mother. When I returned to the workforce again, I sought employment at my son's school, working far below my skill set and pay rate to maintain his schedule and reduce the need for childcare. Now that he is older, it is time to get back into a career.
How did you learn about WGU Texas, and why did you choose our university?

I thought about returning to college one morning and decided to see what options were out there. My husband had received his associate, bachelor's, and master's degrees at the University of Phoenix online, so I knew about that program. Still, I wanted to see what else was available. I searched for "online universities" on Google, and WGU was the first search result, so I began researching. I fell in love with what I saw. After speaking with my husband about it, he mentioned someone we knew was an enrollment counselor for WGU Texas. I reached out to her and talked it through a bit more. I believed this would be the program that would work best for my skills, goals, and budget, so I didn't look any further.

What made you decide to get your degree at this point in your life?

When I decided to transition back into a career, I felt my time away from the business world would make finding a position difficult. A degree would help me find an edge in the hiring process. 
What's your favorite thing about WGU Texas?

My favorite thing about WGU Texas is the flexibility of the program. I loved being able to attend college whenever I had a spare moment. Then, when emergencies arrived, or I felt other matters needed to take priority, I could stop briefly, and attend to them, returning when I was able. The program allowed me to accelerate when I could, slow down when needed, and even break when overwhelmed without missing a class, assignment, or deadline.
How was WGU Texas different than your other college experiences?
Essentially, it's different in every single way. I did not have to attend a class at a specific time. Classes were not canceled by having a note taped to the door when you arrived. If I understood the material, I could move faster. When I struggled, I was able to slow down and focus. There were more resources than just a single professor and an expensive book at my disposal. And, most importantly, my years of work experience helped! 
Were there any barriers you've had to overcome (education, career)? 
I did not receive admission to WGU on my first application. I had to attend another program with transferrable credits, so I opted for WGU Academy. I completed four of my core classes and their PACA program before my acceptance to WGU. I am grateful for this opportunity. I created a friendship in the PACA class that continues to this day. It was also an excellent, low-cost introduction to the process of learning online. I strongly suggest any student considering WGU start with this program. 
What are your future career plans? 
I intend to return to the workforce in an administration position, preferably working primarily from home, and, of course, making significantly more money than I have been able to before! Perhaps I will be lucky enough to earn a WGU mentor position. 
If you could describe WGU Texas in one word, what would that be?

Opportunity!