When Victor Perez, of Katy, was growing up he was taught the importance of hard work and dedication. However, higher education was not emphasized in his family. He was the first of eight children to graduate high school and to earn a college degree.
"As I got older, I realized the lessons of hard work and dedication that my parents taught me could be applied to getting an education that gave me a sense of accomplishment and has paid off in the workforce," said Victor. "It takes hard work to get an education, but it is a smart way to achieve success."
Victor had an associate's degree and a bachelor's degree, but he wanted to advance in his career. His biggest obstacles were finding the time to take classes while working at a full-time job as well as finding an affordable university. He found both flexibility and affordability when he enrolled at WGU Texas to get his MBA.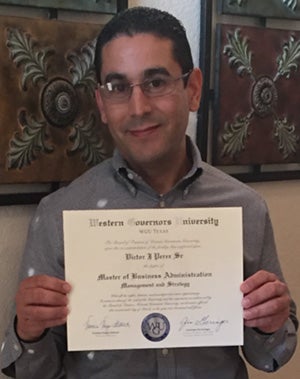 "When I was looking for a university, the first thing I liked was that WGU Texas is a nonprofit university. But the thing that most excited me was being able to take as many courses as I could for a flat-rate," Victor said. He earned his MBA in 2015 and is now a district manager in human resources at Home Depot.
"It's never too late to learn and grow," Victor said. "I am so glad that I made the decision, even at the age of 44 years old, to get my master's degree because it's already paying off in my career and will continue to do so for years and years to come."