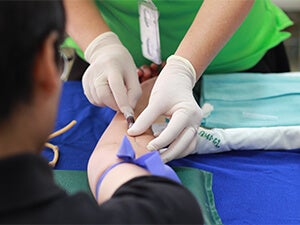 With thousands of nurses working on the frontline during the COVID-19 pandemic, the International Year of the Nurse and Midwife 2020 could not be more timely or hold more significance. As we continue to celebrate nurses throughout the year for their tireless, selfless work, we know many challenges are facing the nursing profession.
Even in the absence of a pandemic, the nursing shortage has been a growing issue for some time. It's estimated that nearly a quarter of the four million nurses in the U.S. will retire in the next 10-15 years. 
At WGU Texas, we are addressing this shortage head-on and helping to meet the increasing demand for nursing care by embracing new learning experiences, such as our nursing simulation center in the greater Houston area, that serves about 480 students enrolled in the prelicensure nursing program. 

We're expanding clinical partnerships with healthcare organizations across the state to build student capacity and provide access to clinical sites and coaches to train and inspire the next generation of nurses.
Providing hands-on experience.
WGU Texas recently signed a clinical partnership with Gonzales Healthcare Systems near San Antonio. Through this partnership, nursing students in the central Texas corridor can develop their clinical skills at the healthcare facility. Students receive one-on-one guidance, supervision, and support in a busy, clinical setting with their clinical coach—an experienced staff nurse and clinical expert. The new partnership will help alleviate the strain on other local hospital partners offering clinical rotations. 
Gonzales nursing staff who train WGU nursing students and want to advance their careers will receive tuition discounts at WGU Texas and other perks. This partnership brings the BSN nursing program directly to students who already live in the area and can one day work in their communities after earning their degree.
Qualified nurses are in high demand in Texas, and with every training and education opportunity they have, the better they can apply their skills to change patients' lives for the better. With more resources established in growing markets, we can admit more students into the WGU nursing programs to further address the nursing shortage.
One-of-a-kind nursing program.
The WGU prelicensure nursing program is a one-of-a-kind program accredited by the Commission on Collegiate Nursing Education (CCNE). The curriculum is designed by experts and employers to ensure students learn and master the skills to excel as a nurse in the field. Upon graduation, students earn a BSN in Nursing and meet the requirements to sit for the NCLEX-RN exam, a requirement to become a licensed registered nurse. 
Our nursing graduates' passage rate for the National Council Licensure Examination (NCLEX) over the last three years has been well above the 80 percent benchmark, with a 100 percent passage rate in 2019 for WGU Texas' BSN prelicensure program.
"Our nursing graduates continue to demonstrate a high level of competence," said Dr. Jan Jones-Schenk, Senior Vice President and Executive Dean of WGU's College of Health Professions. "We are committed to advancing access to our high-quality prelicensure nursing education because we know that our students go on to positively impact the health of the communities in which they work and live. 
More opportunities in patient care.
For individuals who are eager to explore a career in patient care without becoming a doctor or a nurse, a degree in Health Services Coordination could be the answer. While prior healthcare experience is not a requirement to pursue this degree, this program creates a pathway for experienced pre/paraprofessionals, including LPN/LVNs, medical assistants, certified nursing assistants, home health aides, EMTs, paramedics, and military medics. It also provides a bachelor's completion degree with a patient-facing function for AA/AS-prepared technicians. 
Graduates of this program will be equipped to coordinate with healthcare providers, patients, caregivers, and services to improve the effectiveness, safety, and efficiency of an increasingly complex healthcare system. 
Visit our website to learn more about WGU Texas' CCNE-accredited prelicensure nursing program and other degrees in health and nursing.