By Dr. Steven Johnson, WGU Texas Chancellor
During the 86th Texas Legislative Session, WGU Texas released the findings of The 101: The Higher Ed Poll of Texas (The 101) in Austin, our first-ever statewide collaborative poll that explores Texans' attitudes and opinions on higher education.
While WGU Texas has facilitated a statewide higher education poll on its own three times before, this year marked our first collaboration with the community college and private college associations. We were proud to convene The 101 with two of the state's most respected higher education associations: the Texas Association of Community Colleges (TACC) and the Independent Colleges & Universities of Texas, Inc. (ICUT), who support the state's independent nonprofit colleges through advocacy, policy research and collaboration.
Our collective goal with TACC and ICUT was to explore the complex and critically important topic of higher education in our state; and to create a resource to inform voters, policymakers and the media about key public concerns and attitudes about higher education in Texas today. 
The 101's findings cover a wide range of higher education issues—the value of a college degree, the cost of higher education and student loan debt, access to higher education and the importance of an educated workforce and impact on our state's economy.
WGU Texas is one of the fastest growing nonprofit universities in Texas, with students in 226 of Texas' 254 counties. So, it's critically important to understand what current and future students think about higher education, the value of earning a degree and the obstacles and concerns Texans face when making those decisions about returning to school. 
So, what did we find? What are Texans thinking about higher education?
More than 90 percent of Texans agree that an educated workforce is essential to the economy—to keep the state competitive.
Most Texans – 60 percent – believe they need more education or training to move ahead in their jobs or careers.  So, what's stopping them? For four years, our poll has found that most Texans – 79 percent, in fact – believe affordability and student debt remain major obstacles to earning that degree.
For WGU Texas, the latter point is especially true. Our student body is made up of mostly non-traditional learners. They're older. They work full-time. Many have family commitments or financial hardships that put traditional university education out of reach.
But, like every Texan, these learners need access to high-quality, post-secondary programs that will advance their careers, increase their earning power and ensure our Texas employers have the highly-trained, skilled workers they need to stay competitive themselves.
What's clear is that Texans appreciate and understand the value and importance of higher education in advancing careers and improving quality of life, but many Texans need a clear path to earning a degree or additional certification.
If we are going to keep the Texas economy strong and continue to attract new business investment and expansions, we need to ensure Texans are well-trained, highly-educated and ready to compete in the ever-changing, increasingly competitive global economy.
We hope this annual poll continues to serve as a resource to lawmakers, the public and media as a snapshot of Texans' views and attitudes surrounding higher education today.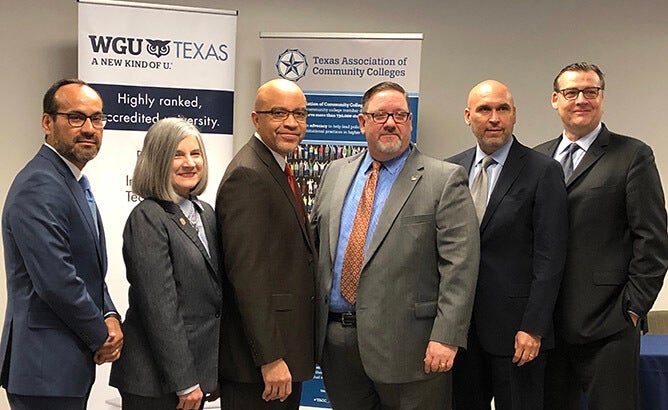 Pictured left to right: Jacob Fraire, TACC; Sandra Harper, McMurry University; Gregory Williams, Odessa College; Steven Johnson, WGU Texas; Ray Martinez, ICUT; James Henson, SRATEX, LLC