"I'm as good as my work says I am."
Throughout history, the explicit question about a woman's ability to enter a career in the STEM field has been met with hesitation. And although STEM careers have a reputation for being male-dominated, times are changing and there is progress. There's more work to be done and sometimes the stigma that creeps in before they even step in the door can be crippling. 
WGU Texas student Laura Gonzalez worked for a tech company without a degree for years – until she hit a wall. A project management position came up, but she needed the credentials to move up the ranks. "I couldn't even interview without a four-year degree," said Laura, "so I enrolled in a traditional brick and mortar university to pursue a bachelor's in engineering." 
She felt singled out from the start. 
"I experienced a lot of doubt and criticism as a female minority in a STEM field," she said. Even though her natural knowledge for computer applications originally led her to advanced positions at her job, the skepticism Laura received on campus became another roadblock. If the career culture is less than welcoming for women in this field, they may turn to other careers where they can balance work and personal lives.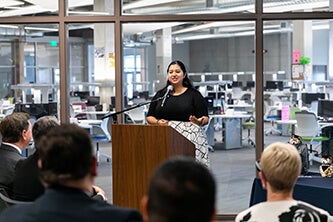 "It was discouraging," she said, "but I wanted to stay in Austin, and I needed to pay my rent, so I kept my administrative job."
Still seeking to boost her career, Laura decided to try another route. She regained her confidence by enrolling at Austin Community College and then transferring to WGU Texas. "[It] changed my life," she said. "Because WGU Texas is online, I never encountered those challenges – I'm as good as my work says I am." 
The affordable tuition, flexible schedule and the one-on-one instruction were "game-changers" for Laura as she began the B.S. in Information Technology program. "WGU Texas stood out from all the other online universities for having a presence right here in Austin," she said.
WGU Texas' competency-based programs allowed Laura to accelerate through her courses while earning several industry-standard IT certifications. "The comprehensive knowledge I've gained through WGU Texas' competency-based model makes me a valuable asset to employers," she said.
Laura looks forward to earning a master's degree in the future and is excited to begin a new role as an IT Project Manager in the government sector. She and other soon-to-be grads will receive their diplomas during the WGU regional commencement ceremony this October in Austin.
Laura was the guest speaker during the WGU Texas and Austin Community College partnership signing event in June, where she talked about her educational journey from community college to a four-year degree. At WGU Texas, we're partnering with community colleges throughout the state to provide seamless pathways to accessible, affordable, high-quality educational opportunities. Learn more by visiting texas.wgu.edu/cc.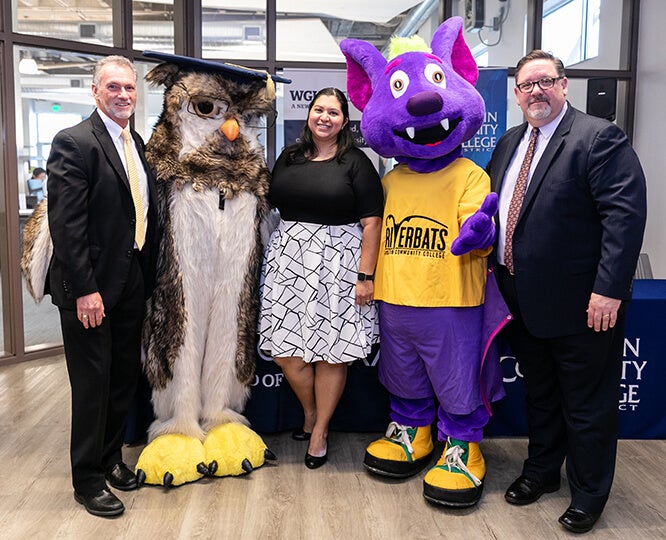 Left to right: Dr. Richard Rhodes, Sage, Laura Gonzalez, The RiverBat, Dr. Steven Johnson