WGU Texas Community Relations Manager Barbara LeCesne regularly holds information sessions for employees at Medical City Alliance (Formerly HCA North Texas) to share partnership benefits, degree options and information about WGU's affordable tuition and scholarship opportunities. In June, LeCesne met Anthony Dinsay, Medical City Director of Laboratory Services and Francisco Maculet, Supervisor of Patient Services.One is at the beginning of his WGU Texas journey and one will graduate with his MBA in July 2019.
Anthony Dinsay recently celebrated three years of employment at the hospital. Next year, he will join the ranks as a WGU Texas alumni, completing his MBA program. Initially, Dinsay was hesitant to start an online program but found he really liked the student forum, library, and other support resources. He credits his mentor for the continual support as "life can often become busy with work and other responsibilities." Dinsay said he appreciated her assistance with time management and keeping him on track. The support he received from his program mentor and course instructors made all the difference in his success as a WGU Texas student.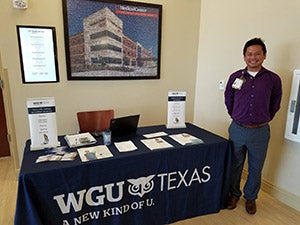 Francisco Maculet also celebrated three years with Medical City and is Supervisor of Patient Access Services. In August, he will begin his WGU Texas journey toward a B.S. in Business Management. Maculet was a former ITT Tech student. In 2016, ITT closed all 130 campuses, including 10 Texas campuses, leaving many students in the lurch on what to do next. To the rescue—WGU Texas! Maculet applied and was happy to learn that many credits from ITT transferred and he was also eligible to apply for the $2,000 WGU ITT Transfer Scholarship, designed to help former ITT students who want to achieve their higher education goals. WGU Texas maintains a robust program of scholarships for qualified students, awarding $810,000 in scholarships to Texas residents in 2017.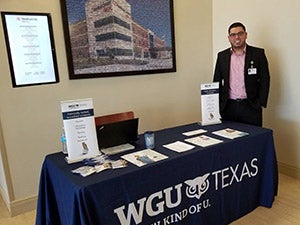 For Maculet and Dinsay, WGU Texas delivered the benefits they both needed—career enhancement, improved earning potential and quality of life.