On Saturday, April 12, WGU Texas recognized the hard work of two cohorts of prelicensure B.S. in Nursing students from Dallas and Houston, in a pinning ceremony that traces its roots back more than 130 years to Florence Nightingale. Since the early days of Nightingale's "Training School for Nurses," it has been tradition for new nursing graduates to be pinned upon their successful graduation.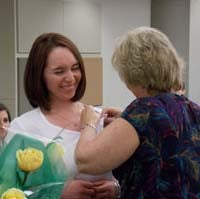 The ceremony, steeped in both tradition and celebration, has become a rite of passage, launching graduates from the WGU Texas family to the outer society of nurses—marking the start of their promising nursing careers.
Family, friends, WGU Texas faculty, and administrators gathered at El Centro Community College in Dallas to witness the momentous occasion and celebrate the achievements of the graduates.
WGU Texas Assistant Director of Nursing, Kim Kelly-Cortez, opened the ceremony, expressing her pride and excitement for the new nursing graduates and closing remarks were provided by WGU National Director of Nursing, Jan Jones-Schenk.
Nursing graduates Dolores Young and Amanda Brown also served as featured speakers. Dolores shared that prior to pursuing her nursing degree online, she worked for many years as an administrator in a nursing home, but continued to dream about becoming a nurse. One of the keys to Dolores' success was her husband. "My husband actually retired and learned how to cook so that I could fulfill my dreams," she said.
For Amanda, family support was also valuable to achieving a nursing degree online. Amanda's son was merely an infant when she began her journey with WGU Texas. She expressed that the support she received from her family helped her to finish her degree and achieve her career goals.
Students were then pinned, marking the transition from student to professional nurse, and while proudly sporting their newly administered pins, the graduates recited the Florence Nightingale Pledge to close the ceremony.
Congratulations to our new nursing graduates!
Amanda Brown
Reyna Calderon
Maureen Crespo
Karen Sanchez – Santiago
Dolores Young
Click here to view photos from the pinning ceremony on our Facebook page.