All her life, Telicia Fogle-Simon wanted to be a teacher. She was mentally and emotionally prepared to become a teacher but was waiting for the right time and the right program. "There was never a question of whether I should pursue it, it was more how and when," she said.
After much research, Telicia decided to begin her journey with WGU Texas.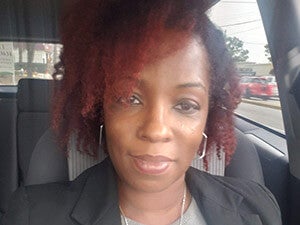 "As a mother of four and working full-time, it was the best option for me," she said. WGU Texas' program provided her with the flexibility to manage her courses, keep up with the daily tasks of running a household and stay within the family's budget.
In 2006, she completed her bachelor's degree in Interdisciplinary Studies with her teacher's certification. After working as a teacher in Humble, Texas, Telicia wanted to make a larger impact and enrolled in a master's degree program. "I went on to … receive my master's in Technology Integration in 2008," said Fogle. "The practicum I received by actually applying what I researched became less theory and more reality."
As she grew professionally, she was promoted to Department Chair and a Reading Instructional Specialist. After seven years with Spring ISD (near Houston), Telicia joined a consulting firm and eventually started her own firm Grow Minds Consulting, LLC. For more than a decade she has immersed herself in various sides of education and now dedicates her time to providing "clear direction and solid guidance in education" through youth outreach services and professional development programs.
Although she was able to meet--and surpass--her professional goals, Telicia isn't the only one in her family to fulfill their academic endeavors. Her mom had a lifelong goal to graduate from college and did so with WGU Texas along with her brother, a military veteran. After her own family's success with WGU Texas, she began encouraging more friends and family to begin their journeys with the online university. "I am always willing to share my experiences with those seeking a quality education," she said, "[I want them to have something] that will support and prepare them for the next phase in their journey."
If you're ready to start your career in education, visit texas.wgu.edu for more information about our Teachers College. WGU Texas has also been honored among the top military-friendly colleges and universities for its military support and offers scholarship opportunities for students ready to apply.