At WGU Texas, we're proud to support our military personnel by helping to protect their future while they protect ours. We're committed to being a military-friendly university by providing all servicepersons and their family members with a personal, flexible and affordable way to get the education they are seeking.
As part of Western Governors University, WGU Texas offers online degree programs that are approved for education benefits administered by the Department of Veterans Affairs and that also qualify for the Military Tuition Assistance (TA) program. Because our flat rate tuition cost of $2,890 (for most programs) is modest, many times these benefits will more than cover the cost of tuition, fees and books or e-learning resources.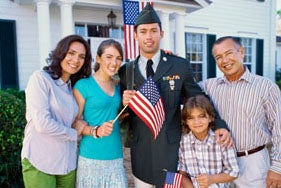 Returning to school can be a daunting challenge for any working adult, and the mobility of military life can further complicate the goal of completion. WGU Texas can help by providing more than 50 completely portable online degrees along with personalized guidance and support from a qualified mentor. And, because we measure learning, not seat time, our competency-based model allows military personnel to apply their knowledge, skills and training that can potentially accelerate the time needed to complete their degree.

For students like Michael Cole from Abilene that made the difference in his ability to cross the finish line. Michael's university experience included earning college credits in seven countries!  A recent graduate of our Master of Science in Cybersecurity Information Assurance program, Michael moved four times during his graduate studies and completed his certifications and courses in two different countries including in a war zone. "I am living proof that circumstances don't have to become excuses in the pursuit of education," he said, adding that online education was a powerful tool which assisted him in being able to meet his goals. 
Once a serviceperson has applied for admission, a caring and capable staff member in our Military Support office (VA Dept) will assist them in completing the necessary steps to begin utilizing their benefits. 
So if you are currently on active duty, in the Reserves or Guard, or a veteran looking to complete your degree—look to WGU Texas. Thank you for your service.
Learn more about WGU Texas' online degree programs:
College of Information Technology
Please note, as a private nonprofit university, WGU Texas is not eligible to offer Hazelwood benefits that are only available through state supported institutions.
This is the first in a series of blog posts about WGU Texas and the military. Future posts will include information and updates about scholarships and transfer programs.