In May 2018, WGU announced a new national strategic partnership with Prime Healthcare, headquartered in Ontario, California. Prime Healthcare is one of the fastest growing hospital systems in the U.S., with more than 43,000 employees in 45 facilities across 14 states, including Texas.
As part of the national launch, WGU National Partnerships Manager Robert Ostrea, WGU Clinical Site Development Manager Linda Harris and WGU Texas representatives led a lunch and learn on June 25 for managers and administrators at the Dallas Regional Medical Center in Mesquite. A member of Prime Healthcare, this 202-bed acute care hospital is the only hospital facility in Mesquite, a community of 100,000 located east of Dallas.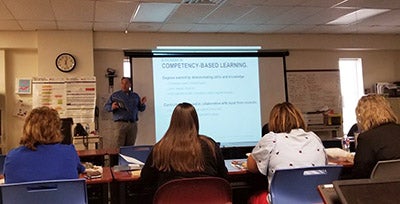 WGU Texas educational partnerships provide pathways to high-quality educational opportunities, access to degrees and personal and professional growth. Prime Healthcare employees are eligible to receive a five percent tuition discount and are eligible to apply for special scholarships, including the $2,500 WGU Healthcare Partners Scholarship.