WGU Texas student Ozzy Perez never shies away from a challenge. Perez began his career in information technology after joining the U.S. Marines. "I first got into IT by default," he said, "as the youngest, it was assumed I would be good with technology."
And he was.  
Perez worked for multiple companies carrying out a variety of IT tasks before earning his current role as Division Network Engineer for HCA Healthcare.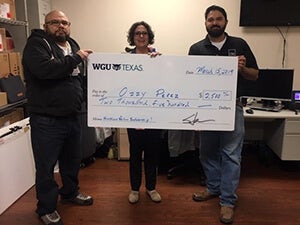 "I went from pulling cables and digging holes to programming switches, routers and firewalls," he said. "IT is great because there is always more to learn, one day you're an expert, and the next you're learning something new again."
Equipped with leadership expertise from his military training, Perez helped his coworkers thrive within the organization. "I helped them earn their CCNA certifications," he said, "it was really rewarding seeing them succeed and knowing that I contributed to that."
Now, Perez is ready to move up once again and knows the best way to be considered for a management position is to have a master's degree. "My [plan] is to take over as Director of IT at HCA Healthcare and encourage others to advance their careers through higher education," he said.
WGU Texas presented Perez with the Healthcare Partners Fund Scholarship to support his dream of earning his MBA in Information Technology Management. His long-term goal is to take on a project manager role within his company and in the short term, acquire as many skills necessary to continue supporting his peers.
The WGU Healthcare Partners Fund Scholarship is worth up to $2,500 and is exclusive to HCA employees. The scholarship is applied to any bachelor's or master's program within WGU's College of Health Professions, College of Information Technology, or College of Business.
To learn more about scholarships offered through WGU Texas, visit our website at www.wgu.edu/texas.