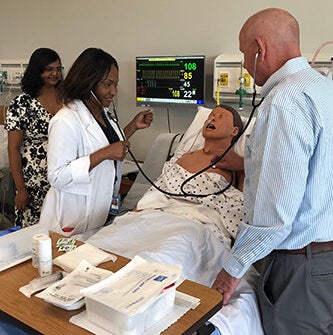 With thousands of nurses working on the frontline during the COVID-19 pandemic, the International Year of the Nurse and Midwife 2020 could not be more timely or hold more significance. 2020 also marks the 200th anniversary of the birth of the founder of modern nursing, Florence Nightingale. As we celebrate nurses during nurses week and throughout the year for their tireless, selfless work, we know Florence would be proud. 
Qualified nurses are in high demand in Texas, and with every training and education opportunity they have, the better they can apply their skills to change patients' lives for the better. 
But limited clinical sites for nursing students and hospitals unable to accommodate the demand for nursing education can result in limited student enrollment and reduced clinical hours without a safe hands-on experience for patient scenarios. With the nursing shortage expected to grow, embracing experiential learning through simulation labs offers a transformative way for students to gain the full scope of patient practice. 
There is a silver lining to this issue for students enrolled in WGU Texas' prelicensure nursing program. Last summer, WGU opened its first nursing simulation center in the greater Houston area, built to help address the nursing and healthcare professional's shortage. It provides critical, hands-on learning experiences in a safe learning environment—more important now than ever. 
The center provides high-quality, high-fidelity simulation experiences for students and enhances their clinical experiences with hands-on learning opportunities. Students gain confidence by applying what they learned in their online coursework. The lab currently services about 480 students, with up to eight weekly cohorts from the greater Houston area and for students from as far away as Beaumont, Lufkin, Livingston, San Antonio, and College Station.
A virtual tour: making it real.
Life-like mannequins are equipped with functionalities that mimic various medical symptoms and illnesses. Students gain hands-on experience working on several procedures and diagnoses, administering meds and IVs, and treatment for critical wounds in children and adults. 
The center is set up for CASAL 1, a skills-based course where students learn basic skills such as taking vital signs, administering medications, and physical assessments and CASAL II, a simulation-based course, where students begin to work with the mannequins and apply what they learned in a patient simulation scenario. As students progress through the program, patient care scenarios become more complex. 
Control rooms allow instructors to monitor, record, and debrief students on their performance, creating actionable teaching opportunities. The control room managers set up various patient scenarios for students from pediatrics, obstetrics, and delivery through adult and critical care. Mistakes can be made with no risk to patients. Students learn to think critically and provide care in this safe environment that bridges the gap between online coursework and clinical practice.
Once thought a novelty, integrated simulation centers amplify the real experience and offer a way for students to gain the competencies, confidence and clinical reasoning necessary in their roles as nurses. 
One-of-a-kind nursing program.
The WGU prelicensure nursing program is a one-of-a-kind program accredited by the Commission on Collegiate Nursing Education. The curriculum is designed by experts and employers to ensure students learn and master the skills to excel as a nurse in the field. Our nursing graduates' passage rate for the National Council Licensure Examination (NCLEX) over the last three years has been well above the 80 percent benchmark, with a 100 percent passage rate in 2019 for WGU Texas' BSN prelicensure program.
"Our nursing graduates continue to demonstrate a high level of competence," said Dr. Jan Jones-Schenk, Senior Vice President of WGU's College of Health Professions. "We are committed to advancing access to our high-quality prelicensure nursing education because we know that our students go on to positively impact the health of the communities in which they work and live. 
Visit our website to learn WGU Texas' CCNE-accredited prelicensure nursing program and other degrees in health and nursing.