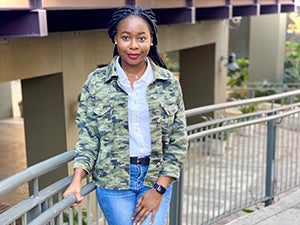 After being laid off from her job due to the pandemic, Ayomide turned the obstacle into an opportunity by finding a university that would fit her needs to obtain a master's degree and reach her goals. Today, Ayomide is a recipient of the Opportunity Grant, part of the Equitable Access Initiative, and pursuing a master's in IT management at WGU Texas. In this Q&A, she shares the barriers she overcame to pursue her passion for IT management.
Tell us a little about your background—life, family, work, education.
I moved to the United States 3 years ago, and due to circumstances beyond my control, I couldn't continue to pursue my dreams of going back to school to study to become an IT manager. At the University of Texas, where I worked as a line server, I had the opportunity to be around many students, which gave me the hope that someday I, too, would return to school to continue my education. I am currently a part-time delivery driver where I help support my community by facilitating the preparation of their orders and safely transporting their meals while patiently preparing for the opportunity to go back to school. WGU has given me that opportunity, and I am beyond grateful. At the end of the day, I am just a young lady from Mushin who does not know how to give up unless I have done my absolute best and my dreams are valid.
How did you learn about WGU Texas, and why did you choose our university?
I found WGU online after researching intensively to find a school that best suits my needs. I wanted a school where I would be molded and well equipped with the skills I need to thrive as an IT Manager. It was also important to have the flexibility to balance my schoolwork with life and any challenges that I might face. I knew a regular school curriculum wouldn't be ideal for me, so I chose a school that would allow me to go at my own pace while also enriching me with the knowledge I need to stand out in my chosen field. 
What made you decide to get your degree at this point in your life? 
Shortly after completing my bachelor's degree, I knew I wanted my MBA in IT management. I earned my degree in Economics, and even though I absolutely loved and enjoyed the program, the parts that stood out to me mainly were budgeting and project related. This encouraged me to obtain a certificate in project management and become a project management professional. Still, I wanted to get back in school and acquire all the necessary skills to be an exceptional IT Manager. Getting laid off due to the pandemic gave me the time I needed to think carefully about my decision to go back to school.
What does it mean to you to be awarded the Opportunity Grant part of the Equitable Access Initiative? How does it make you view your studies or experience at WGU Texas going forward? 
More than the funds, this is the realization that I am seen, and there are people out there who believe in me and my story. This scholarship is a steppingstone in pursuing my dream to positively influence people's lives by being at the forefront of organizing and managing their access and use of technological resources that can help improve their lives. WGU was the first step in the path to be able to achieve that. You need to be a student before you can climb up the ladder to lead anyone. Hence, being awarded this scholarship allows me to acquire all the skills I need not just to be a leader but also to be an exceptional one. 
Were there any barriers you've had to overcome (education, career)? How important is education in your family and who were your influencers, and supporters? 
"The rose that grew out of concrete," my brother would often call me. But I don't believe in miracles; I believe in applying oneself, working hard, and a lot of luck. I think of all my challenges, and although very difficult, I strongly doubt that I have anything to share that you haven't heard before. We all go through hard times, but the one thing that has remained true despite all the hardships that life has thrown my way is my ability not to give up. Being alone in the United States has been tremendously hard. I have cried, and at my lowest, I have picked myself up and kept moving. My dad, who was an advocate for continuing education and who would have been most proud to see how well my English has improved, isn't alive today to read this. In challenging situations where all I wanted to do was go back to school and continue pursuing my dreams (but I didn't because I couldn't afford it), my mom would reassure me that it would happen because she knew how seriously I took my education and bettering myself. Thank you so much, mom. On good days and bad days, my sister Omoyeni just loves me through it all. To my friends, Toyosi, Olivier, Adeola, Pamela, and Christabelle, who encouraged me to put pen to paper when it came to deciding to enroll for my MBA at WGU, thank you. Finally, my dreams have changed, but they have not died, and now I can continue.
Can you share your future career and life goals? 
My career and life goal are to be of stellar service everywhere I find myself. One of the ways that I intend to achieve that is by placing myself in an industry that fits my talent and skills - organizing and creating tasks to ensure the successful completion of projects. In addition, I aim to bring my A-game and help my organization solve IT-related problems that are within my capabilities. My short-term goal is to continue to improve myself and contribute as best as I can to the teams and company/companies I would work for after completing my MBA. My long-term career goal is to become an IT director. I'd love to grow within the organization that I am in. After gaining years of experience and trust, I'd like to go up the ladder up to a point where I can help seek and recognize talents that are useful to the growth of the organization.
WGU Texas Strategic Partnership Manager Jim Johnson interviews Ayomide and surprises her with the WGU Opportunity Grant: