By Lowell Butler, MPA, M.Ed.
WGU Texas and Goodwill Industries, San Antonio recently signed a collaborative agreement to provide Goodwill employees and partners education opportunities through personalized learning pathways to earn a bachelor's or master's degrees, credentials, and provide college readiness programs and coaching. In 2020, Lowell Butler earned his MBA and M.Ed. in Learning Technology from WGU. He worked for Goodwill San Antonio from 2016-2020 before joining UP Partnership as the College Pathways Manager, MBKSA. There, he works to improve outcomes for boys and young men of color.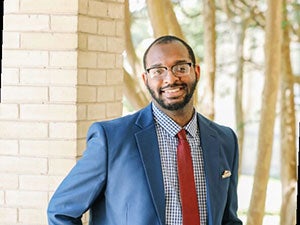 In 2016, I came to Goodwill of San Antonio after completing a second term of Service with AmeriCorps VISTA. In my first role as volunteer program coordinator, I worked at the downtown location registering and performing brief orientations for individuals assigned to community service at one of our Goodwill locations. In my free time I was working toward completing my master's degree in public administration. My final project built on my work in AmeriCorps, comparing the Dignowity Neighborhood to the rest of the Eastside Promise Zone. 
My director, who had worked for the mayor's office before joining Goodwill of San Antonio, really went out of his way to help me complete my final project. He recommended and introduced me to a few community leaders in his network. I had flexibility on my work assignments, which allowed me to complete interviews for the research portion of the project.

A few months before I was due to graduate, I was given an opportunity to work on the Upgrade Program (a WGU Texas partner). This program was a collaboration between Goodwill of San Antonio and SAEP to increase the number of Texans with college degrees or post-secondary credentials. As a College Access and Success Advisor I developed an understanding of the college admissions process in Texas and the various degree programs geared toward adult learners. I ended up enrolling in WGU Texas because I was impressed with their competency-based education model. I eventually earned degrees in education and business. In fact, Goodwill's director of training and development also took time out of her day to answer questions about effective preparation and obstacles for instructional design.  

This is also around the time I discovered my passion for working with adult learners returning to college.

After a year at SAEP I returned to work with the Career Navigator team working with high school juniors and seniors to develop and execute their post-secondary plans. I was afforded many opportunities to develop my evolving skillset. Over the summer I co-authored our program's theoretical approach. This allowed us to articulate why and how we performed our work as Career Navigators and where our services fit into campus-based programming.

Another opportunity was working on the Upskill Program. This program allowed team members to earn either a combination of college credit and digital badges from Palo Alto College for in-demand fields, and I utilized the knowledge I learned from my year at SAEP to successfully guide 35 team members through the admissions process. I was selected for the Going Above and Beyond Award that October!

Today I am a MBKSA College Pathways Manager at UP Partnership working to improve outcomes for boys and young men of color. Through its work with Opportunity Youth, Goodwill is a part of our systems change network and our network's Leadership Table. I am currently participating on an education policy fellowship through Texas Tech, where my policy project will focus on the detrimental impact of transfer holds. I am also pursing my Ed.D. in Higher Education Administration, where my research interest is adult learners re-enrolling in college and alternative learning models.

Goodwill played a pivotal role in shaping my identity as a professional and scholar--which is just another way of saying Goodwill changed my life through the power of work.

Reflecting on my time at Goodwill I credit my success to the leaders and coworkers that have really embodied servant leadership. These leaders take a special interest in the growth and development of those around them and I am immensely thankful that I was the beneficiary.