We live and work in an increasingly mobile society and staying connected can be a challenge. At WGU Texas, online doesn't mean alone. An important part of our student communication strategy is adding another level of immediacy and engagement via mobile apps.
In 2016, WGU launched a notification message stream on the student web portal. Through the notification engine, students receive timely alerts regarding their academic journey. Click on a megaphone icon and receive notifications on the latest activities, announcements and status updates. Once the web notification platform was implemented and adopted, expanding to mobile devices and SMS text messages was the next step in delivering a portable experience.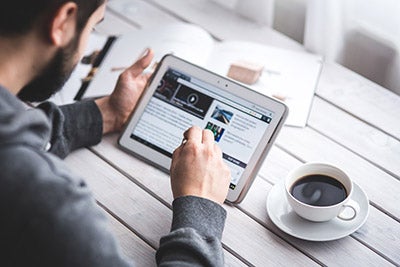 Students can customize the frequency and type of notifications they receive. For example, an emergency response alert could provide information about the status of an assessment during a severe weather event. Students can receive notifications on:
Assessment and evaluation status
Financial aid alerts
WGU announcements
End of course survey requests
Records and academic status changes
Emergency response alerts

Once enabled, notifications are pushed as messages to the mobile device and synced with the student web portal notification stream, so the same information is available across all devices. Notifications are customized for the medium—on mobile devices, a URL would lead to a mobile responsive website or mobile app destination.
The mobile app notifications launched in November and SMS messaging will be available in late January 2017. The WGU mobile app may be downloaded from a preferred iOS (Apple) or Android app store for phones and tablets. Another way WGU improves the student experience is working closely with career and professional development to ensure graduates know they get free career services for life. WGU graduates also receive discounts on training tools, such as a 75 percent discount on an annual subscription fee for Pluralsight. The company offers video training courses for software developers, IT administrators and creative professionals. WGU also launched SimpleK12 for teachers, a free continuing education resource and we're adding more educational tools and learning resources for nursing and business students and alumni.
At WGU Texas, we are providing the tools and resources to deliver a quality educational experience throughout the student lifecycle, from the first contact through graduation and becoming alumni.