During a surprise scholarship presentation on August 2, Lynda Jo Skipper was awarded a $2,000 WGU Texas Military Appreciation scholarship at her weekly hospice team meeting at Baylor Scott and White Hospital in Temple. As a military spouse, Skipper's goals are to be a positive example for her children as she earns her Masters while working full time.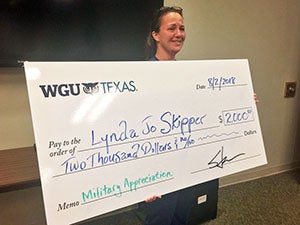 For Skipper, nursing is a calling more than a career. In her current role as a hospice RN case manager, she said being a leader in her nursing profession has always been important as it allows her to advocate more effectively for her patients and fellow nurses. During her career, several positions have allowed her to serve in leadership roles. "This experience has reinforced my beliefs in the need for nurses to serve as advocates and to lead the way in holistic care for patients," said Skipper.
Her short-term goal is to continue providing compassionate care to the hospice patients she serves and long-term, to become a director of hospice services for her region. Skipper knew she wanted to return to school and researched pursuing her FNP, but decided the MSN in Leadership and Management from WGU Texas was a better fit for her goals.
"Now is the time to achieve my education goals, set an example for my children, and provide a better life for me and my family," said Skipper. "The hospital I work for is pursuing magnet status and the role I want will require a master's degree."
Magnet Recognition® from the American Nurses Credentialing Center (ANCC) is the highest and most prestigious distinction a healthcare organization can receive for nursing excellence and high-quality patient care. Only about eight percent of U.S. hospitals earn the designation.
Skipper was proud of her ability to complete nursing school and her BSN while working full-time and as a single mom. Now remarried, she knows that now is the time to make her educational goals a reality.