Recently, a group of students from WGU Texas' College of IT joined together to showcase their knowledge and understanding of cyber security at the National Collegiate Cyber Defense Competition (CCDC), an annual competition that attracts many of the brightest cyber security students from universities across the state.
The seven-member squad, led by WGU Texas Course Mentor Tawnya Jonsek, included Shanon Sims, who served as captain, John Bobbitt, Blake Getzendanner, Chad Graham, Zach Grisbee, Jon Moody, and Michael Wales.
The CCDC serves as a great testing ground for students to use their skills in preparation for future jobs in IT. During the competition, the team tackled a range of exercises, designed to test their skills to combat firewall configuration, malware detection, file restoration, and strong user authentication. They also addressed scenarios such as hackers trying to sneak into secure servers to steal valuable data, putting the theories and skills they've learned in their WGU Texas coursework to practical use—in a fun and challenging way.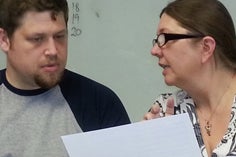 During the first-round "virtual qualifier," in Austin, Texas, the WGU Texas team competed against 21 other universities from the Southwest region and placed in the top eight, out-ranking a number of impressive teams from schools such as Oklahoma State University, Texas A&M University, Texas State University, and the University of Texas, among others. The team of WGU Texas students then came together once again in early March for the "regional finals" in San Antonio.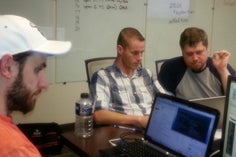 Course Mentor Tawnya Jonsek shared that although her students didn't place in the top three during the second round of the competition, they did receive a special mention during the award ceremony, and several of the team members have been invited by the participating businesses to conduct formal job interviews.

"Our success in this competition is a real tribute to the quality of our WGU Texas students and our IT program," said Jonsek. "The fact that we are able to come together and compete in this event, under a short deadline, shows that we're competitive and our students are simply awesome."

Congrats to the WGU Texas team members!
Shanon Sims, MBA—IT Management (Team Captain)
Jon Moody, B.S. Information Technology—Security (Co-Captain)
John Bobbitt, M.S. Information Security and Assurance
Blake Getzendanner, B.S. Information Technology—Security
Chad Graham, B.S. Information Technology—Security
Zach Grisbee, B.S.  Information Technology— Network Administration
Michael Wales, B.S. Information Technology—Software
Educating the Next Generation of Cyber Security Professionals
Cyber security is a major issue that every business needs to contend with. The field of information technology is a diverse one, full of promising career options covering a broad range of specialties ripe with opportunities to succeed and excel for motivated, smart leaders. Having the next generation of knowledgeable information security professionals who have mastered the latest industry certifications and are equipped with the right kinds of knowledge and skills to anticipate and avoid cyber threats is critical to protecting our state and our nation.
WGU Texas is a nonprofit, accredited, online university, committed to cultivating the next generation of cyber talent.  Our university offers flexible, affordable online bachelor's and master's degree programs and a CompTIA Scholarship for IT professionals who want to advance their careers. With the skills and industry-recognized certifications acquired through our degree programs, graduates will be prepared for successful careers in the high-demand field of IT.