Careers in nursing require a mix of technical, job-specific skills and soft skills like communication and bedside manner – both types are valuable, and there are many nursing specialties to work in.
As you consider which skills and qualifications you want to acquire, here is a look at the top 5 careers in nursing based on salary, education, and projected job growth.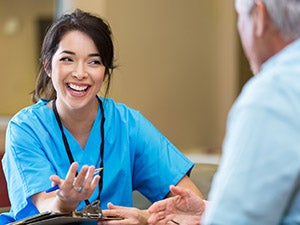 1. Certified Registered Nurse Anesthetist (CRNA).
In order to get a job as a CRNA, you must first become an RN, earn their BSN, and then go on to earn a specialized master's degree in anesthesia and pass a certification exam. As of May 2016, the Bureau of Labor Statistics reported nurse anesthetist's median salary at $160,270, and the specialty is expected to see growth of 25% between 2012 and 2022.

2. General Nurse Practitioner.
A master's degree is necessary to become a Nurse Practitioner, but due to the large number of specialties that a general nurse practitioner can work in, education requirements beyond a master's can vary.
Some may choose to complete a doctoral degree program to further their knowledge, but it is not mandatory. The median salary is $100,910 as of May 2016 according to the BLS, and the specialty is expected to grow 31% between 2016 and 2026.
3. Gerontological Nurse Practitioner.
The first step to becoming a GNP is to complete a registered nursing program and pass the NCLEX-RN to obtain licensure for your respective state. To practice as a GNP, you must also earn a Master of Science – Nursing degree. Some programs specifically include a focus on gerontological nursing. Upon completion of an MSN and sufficient clinical experience (minimum of 500 faculty-supervised clinical hours according to registerednursing.org), you will complete a GNP certificate program and take the certification exam. The BLS reported a median annual salary of $95,070 as of May 2013. Between 2014-2024, jobs are expected to grow by 35%.

4. Family Nurse Practitioner - Pain Management.
Specializing in pain management takes several years of training. Although WGU does not offer a specialization in pain management, a Bachelor's of Science, Nursing degree is preferred.  Two years of full-time work experience as a registered nurse is required, plus a minimum of 2,000 hours of experience in pain management over the previous 3 years.
Within those same 3 years, candidates will complete 30 hours of continuing education – 15 of which need to relate to pain management. The final step is a computer-based certification exam of 175 questions, which is valid for 5 years.
Indeed.com lists the current median salary at around $101,000 but varies depending on city, state, education, and place of employment. Job growth specific to the specialty is not available, but the demand for Registered Nurses is growing.
5. Psychiatric Nurse Practitioner.
To work in psychiatrics, you must first earn a RN license  after completing an associate or bachelor's degree, with most employers preferring a BSN. Education requirements vary between states (WGU does not offer a specialized degree in psychiatrics), and most require you to attend an accredited institution.
Once you are an RN, and preferably with your BSN, you can focus on working toward becoming a Psychiatric Mental Health Advanced Practice Registered Nurse (PMH-APRN) to climb the pay scale. 

Specific job growth information is not currently available, but according to the Bureau of Labor Statistics, the demand for nurse practitioners in general is expected to rise 31% by 2024. Payscale.com lists the median salary at $97,975.
In conclusion, it is important to note that the nursing field as a whole is expected to see strong growth in the coming years. The Bureau of Labor Statistics projects an increased demand for registered nurses from 2016-2026 for several reasons, including an aging population, increased financial pressure on hospitals with more patients, and growth in patients entering long-term care facilities, among other things.
Thus, no matter what path nurses take, their future job prospects are only getting stronger.