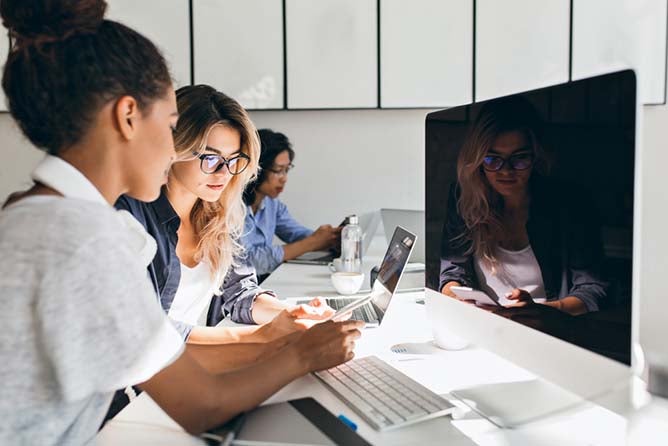 Even though women make up more than half of the workforce, they only hold 26 percent of professional computing occupations, according to the National Center for Women and Information Technology. In 2016, only 19 percent of computer and information science graduates were women. If current trends continue, one Cornell University study asserts, the percentage of women in IT might not reach 50 percent for a century.
This data illustrates that maybe some women aren't aware yet of just how many opportunities are available to them in this field. For women who love computer science, the IT field is flush with opportunities to build new technologies, earn a decent salary, and advance through the ranks. Here's a look at two women who have forged a path in the IT industry—and made their mark along the way.
A trove of exciting IT jobs.
Dr. Pubali Banerjee, program chair of software development at Western Governors University, took her first software development job in the 1990s, but she's loved technology all her life.
"I was always interested in computers and programming," she says. "I am a logical person, and the reasoning and logical aspects of programming have always appealed to me."
Dr. Banerjee's experience highlights the broad spectrum of positions available to IT professionals. She took her first IT job right out of college, working as a programmer for an insurance company. But she quickly moved on to a more exciting creative position: developing animation-based games, including active play CDs, for Disney movies. Dr. Banerjee also worked as a systems analyst and a research scientist before her career in academia. These roles allowed her to exercise her logic and creativity and contribute to different industries in meaningful ways.
They also helped Dr. Banerjee apply her own sense of meaning to her career.
"I absolutely love programming, and that is what I have enjoyed most in my career," she says. "Successfully building and completing coding projects gives me immense satisfaction."
A different pathway.
While Dr. Banerjee went into IT directly out of college, Kara Greer, program manager of digital field services for Schneider Electric in Tennessee, took a different path. She earned a bachelor's degree in engineering in the late 1980s, and spent much of her career in STEM fields before pursuing IT.
"Technically speaking, I had my engineering degree since before STEM was even a thing," Greer says.
Greer was an engineer and technical project manager for more than 20 years when her manager came to her with an opportunity: if she'd learn how to code, test, and secure software, he'd promote her to manage several software teams.
So Greer, who already held a bachelor's degree and an MBA, went back to school to earn her master's of cybersecurity and information assurance from WGU. Greer's engineering background trained her to solve complex problems, so learning the ins and outs of cybersecurity and information technology wasn't a big jump.
Greer's experience demonstrates that there's no one right way to enter the IT field, and that the skills professionals develop in other fields could carry over into a career in IT. There might even be additional perks to making a career switch, too.
"My company paid for my master's, and I have really enjoyed the career changes and promotions I have received since earning it," Greer says.
Greer says she loves working in IT, and how technology is always changing. As a WGU alumna, she also enjoys having access to the Pluralsight license which allows her to keep learning about IT even though she's no longer enrolled in classes.
Making your mark in IT.
Dr. Banerjee's and Greer's experiences show how women are assets to the IT industry and can use their skill sets and educational backgrounds in a variety of fields and specialties. The U.S. Bureau of Labor Statistics predicts there will be 557,100 computer-related jobs by 2026. Colleges will need to graduate more women in IT fields to diversify the STEM workforce and fill IT related job vacancies.
"There is always an abundance of job opportunities," Dr. Banerjee says.
Greer agrees. And there are far fewer barriers for women in IT today as there were when she entered the engineering field.
"It's much more acceptable for a woman to work in the IT field," she says.
Although there is a gender gap in computer science degree programs, Dr. Banerjee sees improvement on college campuses.
"When I went to college, I remember there were only a handful of female students in engineering," she says. "Campus organizations like SWE (the Society of Women Engineers) and WISE (Women in Science & Engineering), along with many other initiatives, have helped bridge that gap, and we see that more and more young women are embracing careers in technology."
She points to tech companies with female CEOs—such as Hewlett-Packard, Yahoo, and IBM—as inspirations for young women interested in IT careers, which are only getting more exciting as technology evolves.
"I believe we are about to experience many exciting changes in technology, including machine learning and AI, which are going to change the world like the internet did," she says. "There are ample job opportunities in this field, and the work is innovative, exciting, and very rewarding."